Six Honored for Work in Diversity, Social Justice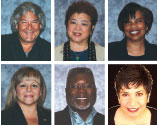 Six individuals who have promoted diversity and social justice at the University of Washington and in the community were honored Oct. 24 at the Multicultural Alumni Partnership's Bridging the Gap Breakfast.
Receiving Distinguished Alumni and Community Awards were:
(1) Marty Bluewater, '71, executive director of the United Indians of All Tribes Foundation; (2) Bettie Sing Luke, '64, who co-chaired "Day of Remembrance" activities that led to an art installation commemorating Japanese-Americans who served their country in World War II; and (3) Diane A. Martin, '74, '80, associate director of career services at the UW. (4) Dorry Elias-Garcia, executive director of the Minority Executive Directors Coalition of King County, received the Distinguished Community Award; Seattle Times columnist (5) Jerry Large received the Dr. Samuel E. Kelly Award; and UW Associate Professor (6)Michelle Habell-Pallan received the 2009 Vice Provost for Diversity Community Building Award.
Columns Digital Magazine
The UW Alumni Association is proud to announce that Columns is now available as an interactive digital magazine. It's presented using the Issuu viewer so you can browse through it just as you would the printed version. You can zoom in, print pages or share articles by e-mail.
Just click the "Digital magazine" link next to the cover image to start browsing.
Need a little more help? Gets some tips for using the Issuu viewer.