Healing Through the Arts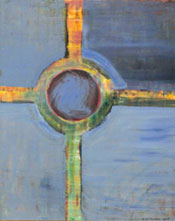 This untitled painting (right) is one of the artworks on display at Harborview Medical Center through Jan. 1 as part of the Circle of Friends for Mental Health exhibit.
Circle of Friends, which is headed by Carolyn Hale, '78, is a nonprofit organization that enriches the lives of the mentally ill by introducing art, drama, music, creative writing and other experiences that bring fulfillment and help them develop more independent lives. This painting was done by a Circle of Friends client. Photo of painting by Anil Kapahi.