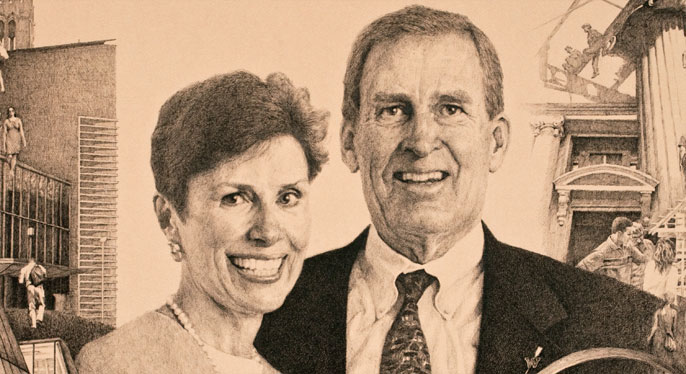 Leveraging Legacy and Pursuing Passion
Jon ('65) and Judy ('74) Runstad know the real value of partnerships. For over two decades these UW alumni and long-time volunteers have worked to give UW students and faculty an edge in teaching, research and knowledge.
The Runstads know that through the UW they can continue to pursue their personal and professional passions and strengthen UW programs at the same time. To support education in commercial real estate — a field in which both have worked for many years — and address the changing needs of our communities, the couple provided the lead gift to create the Runstad Center for Real Estate Studies in the College of Built Environments. And inspired by their family history—both Jon and his great-grandfather were UW Regents, and his great-grandfather was a UW Chemical Engineering professor—the Runstads' involvement at the UW also reflects their personal interests. For Judy, this means generous support for her alma mater, the School of Law, and as a former Husky Crew member, Jon's tireless dedication to the rowing program is second to none.
"We got a lot out of the UW and we feel indebted to give back," said Jon. "What we do privately through volunteering and fundraising is exceedingly important to carrying forward the success of this incredible place." Not surprising, the couple was recently honored with the 2009 Gates Volunteer Service Award, created by the UW Foundation to exemplify the highest standards of service to the UW.
But it's UW Crew Coach Bob Ernst who best sums up the Runstads' partnership with the UW and its people. "They're the definition of our community: understated, get the job done and do it first class."