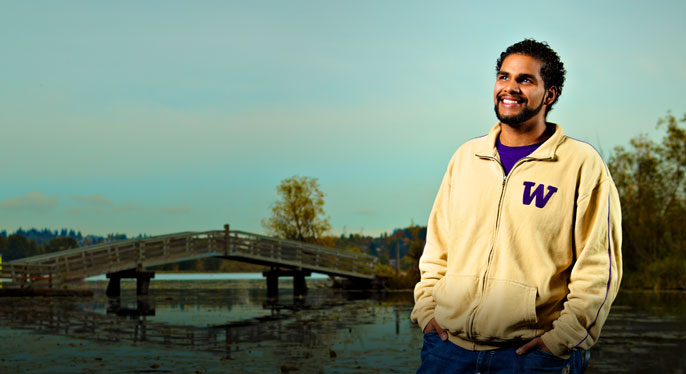 UW Junior Russell Monteiro explores the Washington Park Arboretum where he lead an environmental education outing for low-income youth as part of the Urban Wilderness Project.
UW Student is Good News for the Environment
Russell Monteiro was just a middle schooler when he began fine tuning his environmental savvy. He vividly recalls a seventh grade presentation he gave about the rainforest. "This was where I really started putting together the pieces of the environmental puzzle," says Russell, now a junior at the UW. "I wanted to know more about the problems going on in the world, so I could figure out how to fix them."
Armed with his go-green sensibility and a healthy dose of personal ambition, Russell arrived at the UW ready to tackle those questions with both his hands and his head. As the recipient of three scholarships—Gear-Up, Costco and Gates Millennium—this Yakima native turned his focus and energy into a passion: doing what's right to help improve the state of the planet.
A UW exploration seminar to Brazil, as well as a stint volunteering with the Urban Wilderness Project, set him firmly on the path to gaining greater environmental insight and problem-solving skills. In Brazil, he studied the connections between food, fuels and water and left with a sparked interest in micro-algae producing fuels. And working with low-income youth through the Wilderness Project, he's encouraged a new generation to take care of the world. "I saw myself in these kids, and I'm so glad they have an opportunity like this," he said.
"You can live out your love for the environment here at the UW. Even as a political science major, I'm getting things done," said Russell. "Making a difference starts with just caring."