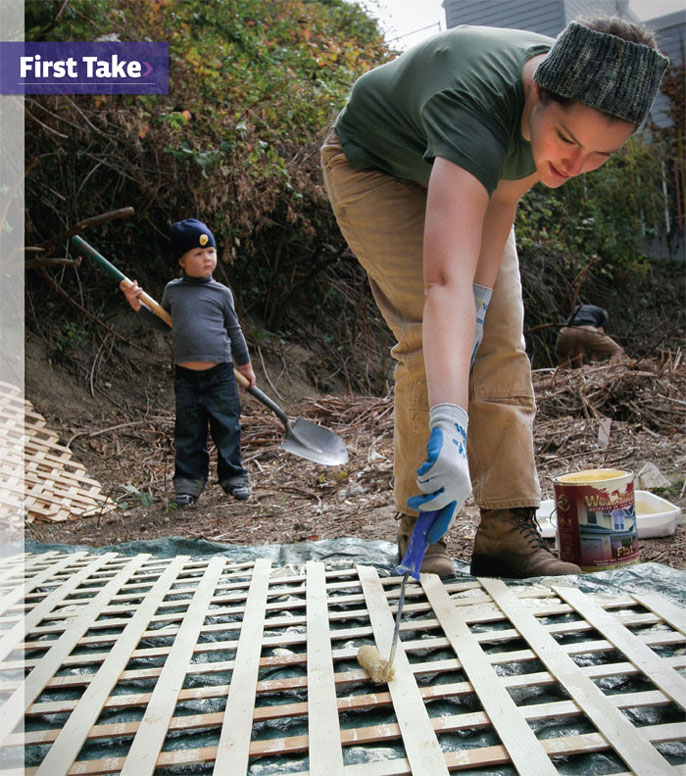 A Garden Takes Shape From the Ground Up
Neighbors couldn't stand the blighted, empty lot on University Way Northeast near Northeast 55th Street. So they are turning it into Shiga's Community Garden, a new addition to Seattle's P-Patch Program. Stacey Gianas, '08 (right), puts the finishing touches on a garden fence as Jordan Brandewiede, 4, looks on. Gianas, who has a degree in conservation biology, started the garden earlier this year with her husband, Patrick Sowers, '08. Photographed by Erin Lodi on Oct. 10, 2009.
Columns Digital Magazine
The UW Alumni Association is proud to announce that Columns is now available as an interactive digital magazine. It's presented using the Issuu viewer so you can browse through it just as you would the printed version. You can zoom in, print pages or share articles by e-mail.
Just click the "Digital magazine" link next to the cover image to start browsing.
Need a little more help? Gets some tips for using the Issuu viewer.