History Lecture Series
The Treasures of Greece: Myth Becomes History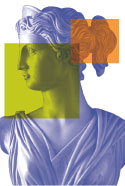 Ancient Greece influenced everything from modern philosophy to the American education system. Join the College of Arts & Sciences and UW Alumni Association for a fascinating look at the age of gods and goddesses and the society that changed the world.
Tickets are available at UWalum.com
.
Key to Greek History – Jan. 12
Did Homer's world really exist? Combining the descriptions in the Odyssey and the Iliad with surviving Greek artifacts has revealed the solid reality of that world—and revolutionized our understanding of Greek history.
Inspiring Other Cultures – Jan. 19
Greece may have been conquered by Macedonians, Romans, Crusaders and Ottoman Turks, but the art and philosophy of Classical Greece captivated the conquerors and influenced countless societies, including our own.
Forging Modern Greece – Jan. 26
As more and more people began traveling to Greece in the 18th century, they found no match between the country's glorious legacy and the lives of ordinary Greeks. Discover the individuals and states that were inspired to aid Greece in its struggle for independence.