December 2008 -
Traditions: Singing a Different Tune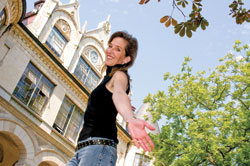 Photo by Mary Levin.

For years, the UW has needed an all-purpose school song. "Bow Down to Washington" is a classic, but it's also a fight song-more appropriate for football games than for convocations or commencements. And with lyrics like "To her we sing who keeps the ward / O'er all her sons from sea to sea," the UW's trusty, fusty old alma mater has a bit of a memorability problem.

This spring, the University sought to fill the void by challenging Husky fans to write lyrics for a new school song, and in September the winner was announced. Catherine Henderson, a student in the UW's evening degree program, hit the right notes—and brought home some do re mi—with her entry, "Rise Up with Pride for Washington." It opens with the well-turned quatrain, "Rise up with pride for Washington, / For Purple and for Gold. / From far and wide we meet as one; / As Huskies proud and bold."

Henderson received $1,000 and a lifetime UW Alumni Association membership for her efforts. The lyrics were set to music by famed composer Bill Conti, author of the "Rocky" theme, and performed publicly for the first time at a Sept. 26 gala celebrating the success of Campaign UW. For more information, visit www.washington.edu/discovery/uwsong.