December 2008 -
Kids These Days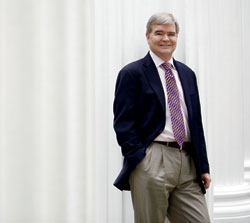 Dennis Wise photo
Despairing over the perceived hopelessness of the next generation seems to be a rite of passage. I know my parents certainly had more than a few sleepless nights worrying about what would become of me and my long-haired colleagues when the world became ours to shape. Now, whenever I hear my Baby Boomer peers bemoaning the state of "kids today," it's clear that the torch has been passed. From my vantage point at the University of Washington, however, I don't share their concern. In fact, when I look at this current generation of UW students, I can't help but feel optimistic about the future.
The challenges facing us—global warming and the environment, terrorism, rising food and energy costs, and the pressures of globalization, to name only a few—pose serious threats to the well-being of our world. But as great as these challenges are, the opportunities they bring are even greater. These are the opportunities to overcome and to lead. Today's students have shown not only that they are eager to engage these opportunities, but that they bring with them an extraordinary level of talent and brainpower that will make it possible for them to succeed in spite of the magnitude of the challenges before them.
Giving back has long been an important part of who we are at the University of Washington, and that is no less true today. The UW has more alumni serving in the Peace Corps than any other university in the nation. Moreover, about 4,200 UW students engage in public-service internships every year. Our students spend tens of thousands of hours volunteering in our community in schools, clinics, shelters and anywhere else help is needed. When a tragic earthquake struck China's Sichuan Province last May, UW students—including those in a study abroad program in Sichuan—quickly responded by mounting a fund drive for the victims, raising thousands of dollars for relief efforts (see "First Aid," p. 16).
Beyond volunteering with established organizations, our students have created new opportunities to give back. When he was just a freshman, '08 UW graduate Alula Asfaw decided to create an outreach program in which University students help fi rst-generation, low-income high school students achieve the dream of a college education. That program, the Dream Project, now serves more than 250 Seattle-area high school students with the combined efforts of 65 UW undergraduates. Alula received a 2007 Truman Scholarship in recognition of his leadership potential, intellectual ability and likelihood of making a difference in the world.
What makes the propensity to help improve the world all the more impressive is the quality of our UW students. Their sheer ability is simply amazing, as evidenced by the large number of prestigious academic honors they garner. Since 2001, 13 UW students have been named Rhodes, Marshall, or Gates Cambridge Scholars, the trifecta of the most competitive international scholarship awards. The latest member of the trifecta club, Jeff Eaton, a 2008 Marshall Scholar, began studying infectious disease epidemiology at Imperial College in London this fall.
We have great students at the University of Washington, and that's not going to end any time soon. The freshman classes we have admitted the past few years have been among the brightest and most diverse in our history. I have every confidence they are going to accomplish remarkable things. It's in their DNA, just like the many generations before them.


Mark A. Emmert, '75, President