Hello Huskies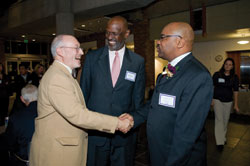 Chuck Blumenfeld, '66, '69, left, talks with
National Bar Association President Rodney
Moore, '87, right, and Randy Jones at an
Oct. 17 gathering in honor of the University
of Washington's "Wondrous One Hundred."
Photo by Karen Orders.
A few weeks ago, during the celebration of Homecoming, I had the opportunity to be with a number of the "Wondrous One Hundred"—the outstanding alums who were featured in the June issue of
Columns
. I can't tell you how proud I felt standing among these world-changing scientists, artists, educators and leaders, all of whom are graduates of the University of Washington. There was a marvelous feeling of connection among everyone in the room.
And it really is all about connection. We are all connected to our wonderful University and to one another.
My connection to the University and our alumni community is simply part of who I am. It's part of what I have valued ever since graduating from this outstanding University. I count on my Husky connections, and invite you to join us and be an active participant in this strong and amazing community at every stage of your life.
Let me give you one of my favorite examples of how the University of Washington Alumni Association provides opportunities to connect—a program scheduled in January and February that might be especially relevant to you in these uncertain economic times: our 10th annual Career Discovery Week.
If you're searching for a new career or opportunities to improve your professional prospects, then I invite you to attend one of the largest career-related events in the country. Whether you're a graduate of the Seattle, Tacoma or Bothell campus, Career Discovery Week has over 140 complimentary sessions covering career-related topics, as well as incredible networking opportunities with alumni and friends of the University who are here to help fellow Huskies. You can get more details on the Career Discovery Week Web site. I look forward to seeing you at one or more of these sessions.
As the end of the year approaches, I'd like to take a moment to thank you for your passion and support of this great University. Every day that I come into work at our Alumni Association, I am reminded of just what a special place the University of Washington is. I'm especially proud of the way in which we connect alumni and friends back to the UW. Whether it's a lecture on campus, mentoring fellow UW grads or students in their career paths, attending an event that helps to raise scholarship dollars for our students or just having a great time with fellow UW alumni, I am continually impressed by the enthusiasm, dedication, diversity and support of our wonderful alumni community!
So, let me close by extending warm and sincere greetings to you and everyone in your extended UW Family for a wonderful and meaningful holiday session. I thank you for all that you do for our University, and eagerly look forward to another amazing year of community and connections.
Sincerely,


Chuck Blumenfeld, '66, '69
Executive Director, UW Alumni Association