A Librarian Where There Were None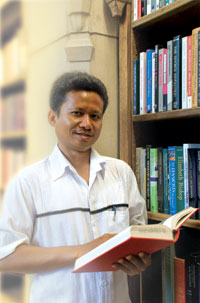 Photo by Kathy Sauber
Wanna Net doesn't know how old he is, but he does know one thing: He's one of the very few Western-credentialed librarians in CambodiaŚmaybe the only one. Net recently completed a master's in library and information science at the UW Information School and an international development certificate program at the UW Evans School of Public Affairs.
His goal: to expand libraries in a culture where they haven't been cherished centers for education. At the Royal University in Phnom Penh, Net will help plan a 26,000-square-foot addition to the Hun Sen Library, which will double its current space.
"There were no Cambodians living in Cambodia with the necessary training and credentials, both to run this critical institution and to begin to train others," says Louis Fox, UW associate vice president for learning and scholarly technologies. "Cambodian libraries are underdeveloped," adds Net, who believes he's about 29. "Lack of a reading tradition is one the many factors that constrain this development. Not many Cambodian people understand the value of libraries. Most think that they're for storage rather than lifelong learning, so it's a great opportunity for me to contribute."
For centuries, Cambodian cultural traditions have been handed down via dance, art and oral storytelling rather than in written texts. Cambodia is also one of the poorest countries in the world, so libraries haven't been a priority. And nearly all libraries were destroyed (and all but several hundred intellectuals killed) when Pol Pot and his Khmer Rouge regime decimated Cambodia in the mid-to-late 1970s.
Net's story is all about work and luck. Sometime after the Vietnamese routed the Khmer Rouge in 1979, Cambodian farmer Nin Soam, his wife, Touch Prom, and their family fled into the jungle. The couple found Net as a malnourished toddler alone in an ox cart. There was no sign of his parents anywhere, and the fighting was fierce all around them, so they took the little boy with them.
The family wound up in a refugee camp along the border between Cambodia and Thailand, where Net eventually finished elementary school. Soam and Prom always hoped to take their family home, and in 1993 they managed a return to Takeo, a province south of Phnom Penh. Net wanted to continue his studies, but he had no relatives to live with in the provincial towns where the schools were. So, like other poor children, Net lived with Buddhist monks during middle and high school.
Eventually, while continuing the long string of part-time jobs he'd had since he was a teenager, Net earned a business degree from the National University of Management in Phnom Penh. He came to the UW as the indirect result of a partnership between the UW School of Social Work and the Royal University. Tracy Harachi, a professor who spearheads the partnership, connected Net with the Information School, and the UW issued a tuition waiver for him.
Net plans to make the Hun Sen Library not only bigger but better organized, helping more Cambodians to understand the value of books and the buildings that hold them. "I feel," he says, "there is much work to be done."ŚCatherine O'Donnell