December 2008 -
MAP Honors the Diverse Achievements of Diverse Alumni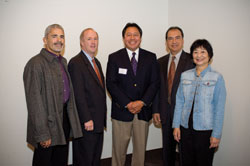 MAP honorees (from left) Carver Gayton,
Michael Verchot, Sonny Sixkiller, Ricardo
Martinez and Dolores Sibonga.

Five alumni and one group who have promoted diversity and social justice at the University of Washington and in the greater Seattle community were honored at the 14th annual Multicultural Alumni Partnership Bridging the Gap Breakfast on Oct. 18. Distinguished Alumnus Awards were presented to:

Carver Gayton, '60, '72, '78, an esteemed community leader who recently retired after serving as the first director of the Northwest African American Museum in Seattle. A UW lecturer, Gayton has served as commissioner of the Washington State Employment Security Department, was a longtime Boeing executive, and was the first black FBI agent in the state of Washington.

Ricardo S. Martinez, '75, '80, a judge for the United States Western District of Washington. Latino leaders admire him as a migrant worker's son who went on to become a mentor to young Latino lawyers.

Dolores Sibonga, '52, '73, the first Filipina American and the first Asian woman to be elected to the Seattle City Council. She was also the first Filipina American lawyer admitted to the Washington State Bar.

Sonny Sixkiller, '74, a former Husky football star and television commentator who became an inspiration for Native Americans everywhere. He led the nation in passing in 1970, is one of three Huskies to appear on the cover of Sports Illustrated, and was the subject of a song, "The Ballad of Sonny Sixkiller."

The Dr. Samuel E. Kelly Award was presented to the UW's Office of Minority Affairs and Diversity Student Services and Academic Support Programs staff. The 2008 Diversity Award for Community Building was presented to

Michael Verchot

, founding director of the UW Business and Economic Development Center at the Michael G. Foster School of Business. Established in 1995, the center supports minority-owned companies and small businesses in economically distressed areas of Washington.