A hundred years ago, a wealthy timber family built a showcase in a new neighborhood of Seattle called Washington Park. Neighbors and friends marveled at the elegant woodwork, detached carriage house and state-of-the-art kitchen.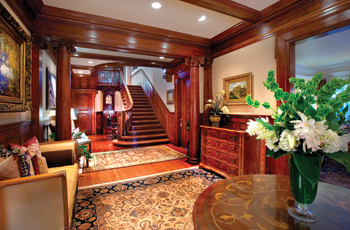 Today visitors to the home can still marvel at that elegant woodwork, detached carriage house and the state-of-the-art kitchen. But they won't be visiting the heirs of Maude Walker Ames or Edwin Ames. When they enter the brick Georgian home, known as Hill-Crest, they'll be visiting the president of the University of Washington.

For the UW's first 70 years, it was a tradition for presidents to live on campus. The site of the 1861 Territorial University (now prime downtown Seattle real estate) had a separate building for the president's family. When the 1909 Alaska-Yukon-Pacific Exposition closed on the Montlake campus, the University converted one of the fair pavilions into a presidential residence.

But that changed in 1932, when UW President Lyle Spencer moved into Hill-Crest, the former home of Maude and Edwin Ames. The couple had no heirs, so they decided to give their wealth—and their home—to the UW as a bequest.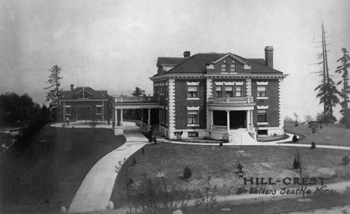 The three-story house had 35 rooms, 11 bathrooms, an elevator and a pipe organ. Because the Walker and Ames families' wealth derived from the timber industry, the interior included perfectly matched panels of Douglas fir in the formal entrance hall and Honduras mahogany in the music room.

For 65 years, it has been the home to 12 presidents. It has seen glittering parties, teen-age sleepovers and even police protection during Vietnam War student unrest.

But it has also seen a century of wear and tear and some misguided renovations. By the time President Mark A. Emmert, '75, and his wife, DeLaine Emmert, were ready to move in, parts of the residence could have been a candidate for Extreme Makeover: Georgian Mansion Edition.

The structure needed to be rewired and replumbed. The first-floor carpet showed wear and stains; the master bedroom had humidity problems. Access to a third-floor deck meant climbing out a waist-high window. The basement flooded, ruining some of the Emmerts' household possessions.

Even before Mark Emmert was hired, the regents decided enough was enough. They set aside revenue from the private Walker Ames Fund to renovate the building while the presidential search was still progressing.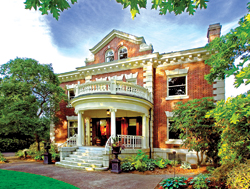 DeLaine Emmert, who also oversaw the renovation of chancellor's residences at the University of Connecticut and Louisiana State University, says Hill-Crest was her greatest challenge. Previous remodels gave the public rooms an institutional feeling. "It was a clinical environment and not very homey," she says.

With the help of UW archivists, she consulted early photographs of the interior and original building plans. The goal was not to recreate the fussy Victorian look of 1907, but to use traditional elements in a more modern setting. The original Ames grandfather clock, for example, still rests next to the formal stairway as it did in 1907.

Today the century-old home has returned to its original glory. The refinished fir flooring sparkles, as does the wood paneling in the library and entry hall. The kitchen remodel replaced worn-out appliances with energy-efficient models, new cabinets and granite countertops. Outside, the garden is undergoing an extensive renovation and was recently featured on a local TV gardening show.

"Mark and I are caretakers for the house," says DeLaine Emmert. "It is part of our responsibilities to the University. We want the University to be a better place when we leave it and we want the residence to be a better place than when we found it." —Tom Griffin