Page 3 of 6


Searching for answers
Wearing an ice blue dress shirt with a pen in the front pocket and flat-front dark blue slacks, Murray sits at a round table spread with a woven table cloth in his temporary office on Eastlake Avenue. The institute will move to the Belltown neighborhood in several months. His office is sparse; one wall has a whiteboard with formulas scribbled in black. A couple of coffee mugs sit next to his computer on a desk. His window overlooks a parking lot and Eastlake.

A 1983 Rhodes Scholar with his bachelor's and medical degrees from Harvard and a doctorate from Oxford University, Murray is measured and intense when describing his work and his motivation.

"The questions for which I'm still searching for answers are: How do you make a big difference?" he asks. "How do you get beyond just direct provision of services? How do you have a bigger impact on people's health?"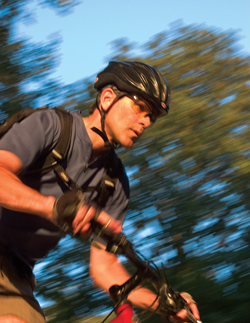 The youngest of four children, Murray spent most of his childhood in New Zealand and Minnesota. Murray's father is from New Zealand and was doing a stint in the United States when Murray was born; therefore, Murray holds New Zealand and United States citizenships. He has the faintest New Zealand accent—"I've been gone too long," he explains.

When he was 12, he and two of his three siblings moved to Africa with their parents to run a hospital in Diffa, Niger.

"Our career paths were predetermined by that experience," says Megan Murray, the sister of Chris Murray and a Harvard epidemiologist who specializes in tuberculosis.

Chris Murray, 45, agrees. "In some ways, I didn't really make a career choice. I just sort of assumed I would do something on health in developing countries."

Their brother is a physician in New Zealand who oversees the largest health system in that country, and Megan Murray studies tuberculosis and drug resistant tuberculosis.

While her work and her brother's may seem similar, Megan Murray focuses on the biology and transmission of one disease, while her brother steps back to take a look at the entire health care picture.

"I focus on one disease because that's what I can handle well," Megan Murray says. "To take on the effectiveness of [the world's] health efforts may seem grandiose, but I think the capacity to conceptualize problems in a big way and think of big solutions is quite special."

Kim's work begins with projects on the ground in small settings, while Murray starts with data sets that are often on a macro level, Kim says.

Harvard's Kim agrees. "He first brought much-needed measurement and evaluation in global health and then he proceeded to innovate … making it possible to evaluate programs in a way that we had not thought possible," Kim he says.

Health efforts, large or small, "can't proceed without a much sterner set of metrics," adds Farmer. Murray is very creative in finding ways to gather data, he says. While talking recently with Murray, Farmer said gathering data in areas without electricity—such as rural parts of Africa or Haiti—would be too difficult. Murray asked about using cell phones as a way to gather data—a viable alternative, Farmer says.

"He isn't afraid to get his brain dirty."

Although shy in high school, Murray gained focus and confidence early in college. "Chris is just quite sure of what he wants to do and how he wants to do it," Megan Murray says. "He's quite sure of himself."

"Chris is exceptionally bright," says Kim, who, along with Farmer, went to medical school and interned with Murray. "His most important strength as an academic is his willingness to take chances and look at data and even methods in completely new ways."

Murray was a professor at Harvard and Gakidou, born and raised in Athens, Greece, was an undergraduate when they met at Harvardin Cambridge. They worked together on Murray's 1990 Global Burden of Disease report outlining the devastating effects of chronic obstructive pulmonary disease. And they've collaborated ever since.Gakidou and Murray worked together, at the World Health Organization, along with Frenk, before moving back to Harvard in 2003.

Gakidou, who holds bachelor's, master's and doctoral degrees from Harvard, loves the variety that global health offers. On one project, she may study the effects of a disease in a community and on another, examine health-care financing.

If her husband is somewhat reserved, Gakidou is the opposite. She has a warm handshake, bright eyes and an easy laugh. With her dark hair cascading past her shoulders and her black fitted jacket, T-shirt and olive pants, she looks younger than her 33 years.

Emmanuela is both a great scholar and a really terrific teacher of young people," Kim says. "She got rave reviews from the undergrads and graduate students at Harvard and will be sorely missed."

Gakidou says she's always been judged on the quality of her own work. "You can't really fake it. I can't live off Chris' grants," she says.

"Global health is large enough. There's enough space for both of us," she saysadds. "What attracts people to global health is more than technical skills; it's a mentality of wanting to make a difference."

Her sister-in-law notes that Gakidou is very flexible and has done a good job of pursuing her own career and interests, while remaining a vital part of Murray's.

"She's a graceful and extremely accomplished person on her own," Megan Murray says.

Living by the adage "work hard, play hard," Murray and Gakidou draw a clean line between work and home life. While Gakidou says she might be able to sit still long enough to spend a couple of days on a beach reading a book, Murray could do it for five hours—at most.

They love taking long bike rides on trails and are avid skiers. When the couple lived in Geneva, they frequently flew to Whistler, British Columbia, to ski because they prefer the skiing in B.C.

The two have adapted quickly to Seattle life, settling in the Magnolia neighborhood. They own REI cards and are coffee drinkers. Nearly every weekend, they explore a new biking or hiking trail.

While the couple blends into a quiet life in Seattle, they continue to be major players on the global health stage, particularly because of the hard facts they deliver.