| | |
| --- | --- |
| Be King for a Day: Give of Yourself on MLK Day of Service | |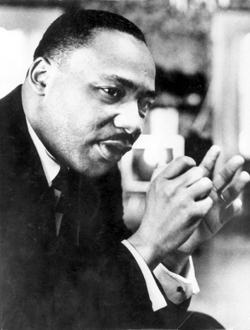 Martin Luther King Jr. went to college at age 15, led the Montgomery Bus Boycott when he was 26, gave the "I Have a Dream" speech and wrote the "Letter from a Birmingham Jail" at 34 and won the Nobel Peace Prize at 35. If Martin Luther King Jr. Day were meant to be a day for sleeping in and watching game shows, it would've been named for someone else.

The UW community turned out in force for last year's Martin Luther King Jr. Day of Service, a chance to honor the great civil rights leader's legacy by doing something for others. More than 1,200 people cleaned up community gardens, helped out at homeless shelters and gave their time in dozens of other ways. If you weren't one of them, don't worry—another opportunity is just around the corner. Jan. 21 is MLK Day of Service 2008, and the UW is seeking volunteers. If you're interested in leading a work group or just pitching in, visit UWalum.com and sign up.