| | |
| --- | --- |
| Five Honored for Commitment to UW and Their Communities | |
Rogelio Riojas spent his youth as a migrant farm laborer, following seasonal work from Texas to eastern Washington to California. The daily discrimination he encountered—"We were treated like … basically a second-class community," he has said—led him to dedicate his life to helping the disenfranchised. And that dedication has earned him the esteem of the Multicultural Alumni Partnership, which honored Riojas and four other outstanding UW graduates and friends at the annual "Bridging the Gap" awards breakfast Oct. 27 in the HUB Ballroom.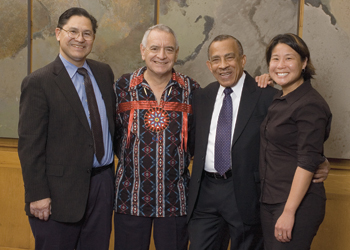 Serving as co-emcees, U.S. Representative Jim McDermott and Vivian Phillips presented MAP Distinguished Alumnus Awards to Riojas, Harold G. Booker and Ruthann Kurose. Phil Lane Jr. received the Dr. Samuel E. Kelly Award, and the Diversity Community Building Award went to Carolyn Chow.

As executive director of the Sea Mar Community Health Center, Riojas, '73, '77, makes sure that underserved, uninsured and low-income populations receive the health and human services they need. Under his leadership, Sea Mar has grown into a multi-million dollar facility serving tens of thousands of people every year. Riojas's activism dates back to his student days in the '60s and '70s, when he was a member of the UW chapter of MEChA and Seattle's Brown Berets. He would later help lead a successful effort to bring a community health clinic to his hometown of Othello.

Booker, '55, a longtime commissioner on the King County Housing Authority, is a Seattle-area attorney known for his leadership in efforts to desegregate housing patterns in Federal Way and end discrimination by social clubs such as the Elks. Booker contributes many hours of pro bono legal help to people with low incomes, and people with AIDS.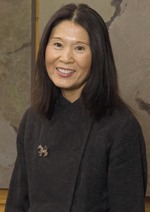 A public affairs project consultant, Kurose, '74, is highly sought after for her ability to provide guidance and oversight. She chairs the Bellevue Community College Board of Trustees, and sits on the Washington Liquor Control Board and the Seattle Art Museum Community Advisory Board. In the past, she has served as the city of Tacoma's international affairs manager and the city of Seattle's international trade and tourism coordinator.

President Mark A. Emmert, '75, presented the Dr. Samuel E. Kelly Award to Phil Lane Jr., CEO of United Indians of All Tribes. Lane is founder and coordinator of the Four Worlds International Institute—an organization dedicated to promoting Native American physical and spiritual health, and cooperation among all people. Lane's other honors include the Windstar Award from John Denver's Windstar Foundation and the Year 2000 Award from the Foundation for Freedom and Human Rights in Berne, Switzerland.

Carolyn Chow, '97, accepted the Diversity Community Building Award from Sheila Edwards Lange, '00, '06, vice president for minority affairs and vice provost for diversity at the UW. As coordinator of recruitment and admissions for the UW School of Nursing, Chow has been instrumental in making diversity a priority in the recruitment of new students. She also chairs the Collaborative Access Network on Diversity Outreach.

The MAP Bridging the Gap breakfast was co-sponsored by Safeco. Macy's. Nielsen and Pfizer. The Multicultural Alumni Partnership supports recruitment and mentoring of students, faculty and staff of color while promoting diversity within the UW and the UW Alumni Association.