| | |
| --- | --- |
| Two UW Faculty, One Alumnus Are 2007 MacArthur 'Geniuses' | |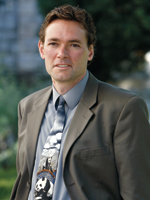 The John D. and Catherine T. MacArthur Foundation named three members of the UW community recipients of its famous "genius" awards Sept. 24. The three are UW Computer Science and Engineering Professor Yoky Matsuoka; UW Affiliate Biochemistry Professor Mark Roth, a biomedical scientist at the Fred Hutchinson Cancer Research Center; and Virginia Tech Civil Engineering Professor Marc Edwards '88, '91.

The MacArthur fellowships are given each year to United States residents of any age and in any field who show "exceptional creativity in their work and the prospect for still more in the future." The foundation conducts its selection process in secret for the $500,000, no-strings-attached prizes. Winners have no idea they are under consideration until they get a phone call informing them of the award.

Since 1981, the foundation has named 756 fellows. There are eight current UW faculty and six UW alumni who are MacArthur Fellows.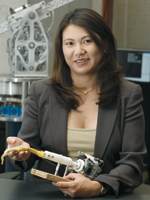 Matsuoka directs the UW's Neurobotics Laboratory. The lab creates novel robots that can help disabled people or those with restricted mobility. By tracking how the central nervous system sends signals that control the movements of hands, arms, feet and legs, her group hopes someday to create lifelike robotic parts.

Matsuoka gave birth to her third child just one week before learning of the award. While still on maternity leave and absorbing the news, Matsuoka has begun to think about what she will do with the prize money. "There seems to be a gap between what's available to disabled people right now and what is possible with robotics," Matsuoka says. "One way to do that may be to start a nonprofit that would fill that gap."

Biomedical scientist Roth and his team at "Fred Hutch" found a way to keep mice in a state of suspended animation without causing any harm, a technique that one day may be used to help buy time for critically ill trauma patients on organ-transplant lists and in operating rooms, emergency rooms and battlefield aid stations.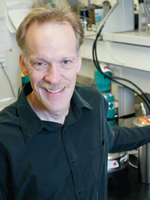 Roth's research interests also include gene regulation, chromosome structure and function, and autoimmune disease. "The creative work I've been able to do has depended upon my interaction with people from vastly different scientific backgrounds—people whose scientific orbits wouldn't normally intersect with mine. I'm hoping this fellowship will increase the possibility for more such creative collaborations," he says.

Virginia Tech Professor Edwards is a water quality expert. In 2003, he found high levels of lead in Washington, D.C.'s drinking water. Edwards and his graduate students discovered that the addition of chloramine disinfectant in tap water increased the incidence of lead leaching in residential and commercial aqueducts. This research linked several cases of lead poisoning, earlier thought to be caused by lead paint, to local tap water.

He testified at six congressional hearings and his work has resulted in revisions of Environmental Protection Agency regulations.

Other UW alumni who are MacArthur Fellows include Johns Hopkins University Political Science Professor Fouad Ajami, '69, '73; UW English Professor Linda Bierds,'69, '71; CalTech Bioengineering/Biology Professor Michael Dickinson, '89; Cornell Plant Pathology Professor Rebecca Nelson, '88; and Stanford History Professor Richard White, '72.