One for the Rhodes

For a University of a Thousand Years, we sometimes don't do a very good job preserving our history.

When UW senior Eliana Hechter became a Rhodes Scholar in 2006, DeLaine Emmert, wife of President Mark A. Emmert, '75, asked a simple question: How many Rhodes Scholars does the UW have? No one knew the answer.

That was surprising since it is the world's oldest and most prestigious international scholarship. Since 1902, Rhodes Scholars from around the globe have received a stipend to cover two or three years of study at Oxford.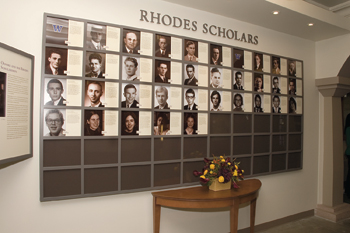 Perhaps the most famous Rhodes Scholar is President Bill Clinton, but he has some tough competition: U.S. Senator and NBA All-Star Bill Bradley, singer and actor Kris Kristofferson, NATO commander and presidential candidate Gen. Wesley Clark, writer Naomi Wolf, Australian Prime Minister Bob Hawke, poet and novelist Robert Penn Warren and two of the German military officers who tried to assassinate Adolph Hitler (both were executed in 1945).

UW alumni who won the scholarship were certainly going to be impressive, if we could track them down. So DeLaine Emmert spearheaded a project to find all the UW Rhodes Scholars and build an exhibit honoring them.

I got a call soon afterwards from Mona Pitre-Collins, director of the Undergraduate Scholarship Office. She was creating a Rhodes Scholars task force from across campus representing external affairs, student affairs, development, undergraduate education, the president's office and the alumni association.

She called me because in the March 2004 Columns, I wrote a feature article on that year's Rhodes Scholar, Alyssa Lamb, '04. As a sidebar to the main article, I wrote brief paragraphs about UW Rhodes Scholars who had graduated since 1960. It was an extraordinary group, including the CEO of a billion-dollar media giant and a former commercial fisherman who was now an official in the British government. One UW alumnus, Bill Clinton's best friend at Oxford, later resisted the draft during the Vietnam War and eventually committed suicide.

Mona asked if I could help her track down the rest. As a start, she and her student assistants spent hours working with the Rhodes Trust in England to get a list of University of Washington Rhodes Scholars—we found that there are 35 in all. While the Rhodes Trust had photographs of most alumni, we were unable to find pictures for the very first UW Rhodes Scholar, Joel Johanson, 1904, or a later scholar, Ford Keeler Brown, 1919. (If you know a relative who may have a photo of these men, please contact Columns.)

My task was to find out what happened to these alumni after they left Oxford. Intern Anna Earnest, '06, found some information in back issues of The Washington Alumnus, the forerunner to Columns. For others, Internet archives and search engines were invaluable. Old-fashioned legwork was also necessary. I spent one afternoon in the Portland Public Library looking at microfilm, trying to track down the obituary for Lewellyn Railsback, 1905. When I found the death notice in a 1958 issue of the Oregonian, I wanted to cheer out loud—but I was in a library and cheering an obituary may be inappropriate under any circumstances.

So many others on campus were crucial to this project that there isn't room to list them. All of us were bursting with pride on Sept. 28, when President Emmert and his wife unveiled the new display in the entryway of Mary Gates Hall. Several of our UW Rhodes Scholar alumni were there as well.

Looking at the exhibit, we saw that it was incomplete. But that wasn't a mistake. It was purposely designed as a grid with empty space for 25 more Rhodes Scholars. Considering the excellence of the University and how it attracts top students from around the nation, it won't take long to fill up.

Tom Griffin
Editor