| | |
| --- | --- |
| Hire Education: Career Discovery Week Is Back, and Bigger than Ever | |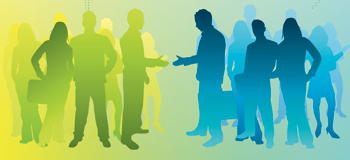 The word "career" comes from the French for "race course," and that's sure how it feels sometimes. Huskies who'd like some help getting on track or up to speed, or changing lanes, should make a pit stop this winter at Career Discovery Week. A "week" in name only, it will bring career-related events and resources to all three UW campuses starting Jan. 9 and continuing through mid-February, with the largest concentration coming the week of Jan. 28–Feb. 2.
Lots of events bring Huskies together, but none reaches into every corner of the UW community the way Career Discovery Week does. The annual career expo sees participation from more than 50 academic and administrative departments, hundreds of successful graduates who come back to sit on panels and take part in networking events, and thousands of students and alumni who want to give their careers a boost. Not to mention the dozens of employers who come to recruit. As one past participant said, "The networking is done for you … just show up."

With more than a hundred sessions, Career Discovery Week is hard to represent in all its breadth. Here's a small taste of what's on tap:

Student-Alumni Networking Events:
College of Arts & Sciences
UW Bothell and UW Tacoma
Husky Career Lunch

Job Search Seminars:
Résumés and Cover Letters
Successful Interviews Workshop
Job Offer and Salary Negotiation

Environmental Series:
Environmental Careers: Marine Sciences
Environmental Careers: Law and Policy
Environmental Career Fair

Diversity Series:
Career Advice for Students of Color
Business Careers: Perspectives from Alumni of Color
Minority Career Fair

Health Care Series:
Careers in Environmental Health
Careers in International Health
Careers in Health Care Management

For complete information about these and other Career Discovery Week events, visit uwcdw.org.