| | |
| --- | --- |
| Welcome. | |
Members of the Family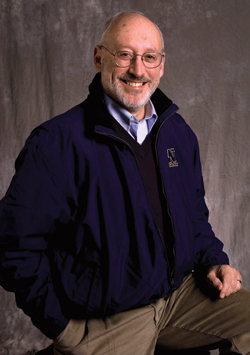 As we enter the holiday season and look forward to the new year, I think this is the perfect time to catch our collective breath and take a moment to reflect on the things that are important to us—including the role the University of Washington has played in our lives.

Whether you left school months ago or many years ago, you are part of a network of more than 300,000 individuals who share the same UW traditions, possess the same sense of Husky pride and have an understanding of our own student experience. The UW was a huge part of your life when you were a college student—and hopefully that continues to be true today.

In other words, you are still part of the Husky community—a family that has a history of helping one another, lending a hand in the community and working to create a better world. And there are a number of opportunities for you to participate.

For example, Career Discovery Week, which is coming in January, will be the ninth annual Career Discovery Week of which the UWAA has been a part. Conceived years ago as a small, grassroots event staffed by a handful of academic advisers and career counselors, it has blossomed into an extravaganza that lasts close to a month (despite its name)—thanks to the hard work of the UWAA and dozens of campus partners. Each year, hundreds of UW alumni and friends turn out to speak to students, provide career tips and offer networking advice. No wonder this event draws more than 8,000 students and alumni to more than 100 seminars and workshops on all three UW campuses.

Another example of the Husky community in action is the UW Mentor Program, which started in 1989. The UW Alumni Association and Office of Minority Affairs & Diversity team up to offer this program, in which incoming students in the UW Educational Opportunity Program are matched up with student mentors—usually upperclassmen—in the fall. Then in the winter, alumni and friends volunteer as career mentors to speak with those student mentors in person or by phone on a regular basis to provide coaching and encouragement regarding the students' career aspirations. This program is one of the UWAA's longest running and most successful campus partnerships.

And yet another example is the Husky Career Lunch, which will happen on Feb. 20 at the HUB Ballroom. Here, alumni and friends volunteer to meet face to face with students and recent grads who are interested in learning about a specific career. Over the course of a couple of hours, alumni like you are helping young Huskies find their way—and serving as role models as well.

A key mission of the UW Alumni Association is to foster Husky community by providing opportunities for you to volunteer, to get involved, to give back—in whatever capacity you see fit. Whether it is spending a couple of hours serving as a panelist at a Career Discovery Week seminar, being a career mentor, or networking with students and recent grads at Husky Career Lunch—you can give back and make a difference in another Husky's life.

This is what the UWAA is all about—building relationships, giving back, connecting alumni to the University and keeping the Husky community going strong. Thanks for being a part of this great University.




Chuck Blumenfeld, '66, '69
Executive Director, UW Alumni Association