| | |
| --- | --- |
| UWAA Members Have a Lot on the Ball | |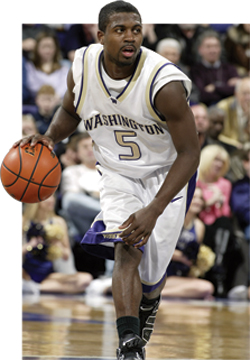 As the Husky basketball season gets under way, here's an opening tip: Use your UWAA membership card to get special access to Member Recognition Games and discounts to Husky Hoops Jump Start events.

Every year, the UWAA reserves a block of tickets to a men's home game and makes them available to members as part of Member Recognition at Husky Basketball. This year, it's the highly anticipated Feb. 8 game against Cal. The association is also offering its members discounted tickets to the women's game versus WSU on Jan. 20. These alumni recognition games feature fun giveaways for members, and there will be free face-painting and sign-making stations at the women's game.

And if you're planning on going to the Cal game Feb. 8, there's a second way you can take advantage of your UWAA membership: Use it to get discounted admission to the Husky Hoops Jump Start—the UWAA's popular pre-game party at the Don James Center. For $20 ($25 for non-members) you'll get an all-you-can-eat BBQ, beer, wine and soft drinks, chalk talks by the men's basketball coaches and a live performance by the Husky Band and Cheer Squad. Then you can stroll over to Hec Ed to watch your Huskies battle the Bears. It's an easy walk from the Don James Center, so you only have to park once. A second Jump Start will take place March 1 before the USC game, with the same discount for UWAA members.

Visit UWalum.com for complete details about Member Recognition at Husky Basketball and Husky Hoops Jump Start, and to register.