When activist Silme Domingo was murdered in Seattle in 1981, it was made to look like a union-related dispute. But his sister, Cindy Domingo, wouldn't rest until the whole story was known. She led a 10-year campaign that resulted not only in criminal convictions of the hitmen and their boss but also a $15 million civil judgment against their boss's boss, the Philippine government.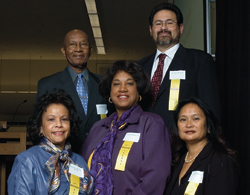 A deep commitment to justice is something Domingo shares with each of this year's MAP award recipients. Six alumni and friends of the University and one influential organization were honored at the annual MAP "Bridging the Gap" Breakfast, held Oct. 28 in the HUB Ballroom. The Multicultural Alumni Partnership supports recruitment and mentoring of students, faculty and staff of color while promoting diversity within the UW and the UW Alumni Association. The group also awards student scholarships and recently named one of them in honor of artist Alfredo Arreguin, '67, '69.

Domingo, who received a MAP Distinguished Alumni Award, has served on a variety of community boards, including the Church Council of Greater Seattle, the International Examiner, the Center for Social Justice and the U.S. Women & Cuba Collaboration. Other MAP Distinguished Alumni Award honorees included Lawney Reyes, '59, an artist, author and activist for American Indian rights who designed the Day Break Star Cultural Center at Discovery Park; and Patricia Dunston, '70, and Sandra Kirk Roston, '66, '70, whose work showcasing African American members of the UW faculty at regional middle schools and high schools has led to a substantial increase in undergraduate applications by African American students.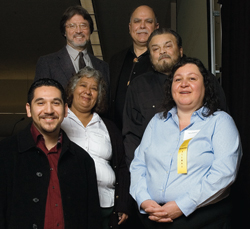 Oscar Eason Jr., who was recently named chair of the Washington State Commission on African American Affairs by Governor Christine Gregoire, '69, '71, received the Dr. Samuel E. Kelly Award. A nationally known civil rights activist, Eason is NAACP conference president for Alaska, Oregon and Washington.

The Vice Provost for Diversity Community Building Award went to Eugene "Gino" Aisenberg, an assistant professor in the UW School of Social Work well known for his efforts to make high-quality mental health services available to Latino and other ethnic populations.

And the MAP Community Organization Award went to Campaña Quetzál, a coalition of educators, parents, youth and concerned citizens dedicated to improving educational opportunities for Latinos. Campaña Quetzál raised $50,000 to organize the 2005 Latino Education Summit in Seattle, which drew more than 500 participants.