| | |
| --- | --- |
| Top 10 Reasons You Need to Get Your UW Plates Now | |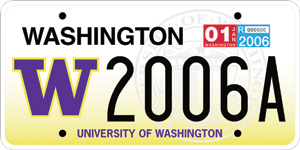 1. WSU plates outsell their UW counterparts by a three-to-one margin. Boo!
2. If there's one thing worse than being caught in traffic, it's being caught behind a Cougar license plate.
3. Many of Seattle's 1,200 police officers—the ones who issue speeding tickets, or let you off with a warning—are UW graduates.
4. "W" also stands for "Warning."
5. If you wait until after the basketball season, you'll look like a bandwagon fan.
6. For every license plate sold, $28 goes to the UW general scholarship fund.
7. That's tax-deductible.
8. The simple, elegant design is the handiwork of talented students in the UW School of Art.
9. If you try to paint your own purple W on your current tag, you will be ridiculed and probably ticketed.
10. You won't regret it—unlike the time you got that vanity plate that said "DRLOVE."

Visit www.uwlicenseplates.com to order yours today.