| | |
| --- | --- |
| UWAA Searches for New Executive Director as John Buller Joins Tully's Coffee | |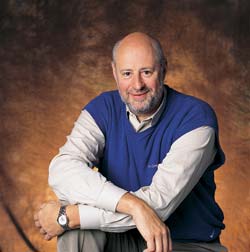 On Aug. 15, UW Alumni Association Executive Director John Buller, '69, '71, announced that he is leaving the UWAA to become president and CEO of Tully's Coffee in Seattle. The UW and the UWAA are currently conducting a search and are expected to announce a replacement in the new year.

Buller became alumni director in April 2001 and is widely credited with expanding alumni programming and integrating the association into the life of the University. He is particularly proud of his outreach to diverse communities and the launch of Viewpoints, a magazine that links alumni from these communities back to the UW.

He also feels that the alumni association has expanded its reach during his tenure. "Athletics is important, but it's not our primary mission. We've gone from 'Aren't you the guys who throw football parties?' to 'Aren't you the guys with great lecture series?' in the minds of the public," he explains.

Buller also served as the director of UW Advancement Communications for more than two years while heading the alumni association. In that position he was instrumental in launching the public phase of the $2 billion Campaign UW: Creating Futures, including its signature event, Come Together Washington, held in 2004.

At the September UWAA Board of Trustees meeting, President Mark A. Emmert, '75, praised Buller's service. "I want to tell you what a great leader and a great partner John has been," he said. "He brought energy, focus and fun to hard work here at the University. You all need to know how much we appreciate the work he's done and the team he's built."

At the meeting, the board voted to name Buller "Executive Director Emeritus," the first time in UWAA history a director has been given this honor. The board also launched a $20,000 campaign to create the John K. Buller Civic Fellows Endowed Scholarship in his honor. For more information or to make a contribution, visit uwfoundation.org.

Sue Brockmann, '72, director of marketing, communications and revenue development, and Paul Rucker, '95, '02, director of alumni relations and programs, were appointed interim co-executive directors while the University and UWAA conduct a national search for Buller's replacement.