| | |
| --- | --- |
| Gates Volunteer Award Winners Endow Brain Cancer Research Center | |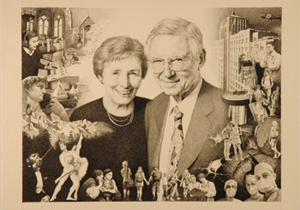 Moments after Ellsworth C. "Buster" and Nancy D. Alvord received the Gates Volunteer Service Award at the Fifth Annual Recognition Gala Sept. 8, the couple made a surprise announcement—they will help create a Center of Excellence for Neuro-oncology at the University by establishing with their family six new endowed faculty chairs.

This commitment continues the Alvords' long legacy of dedication to the University of Washington, particularly to UW Medicine, where they serve as members of UW Medicine's Campaign Cabinet. In addition, Buster serves on the Neurological Surgery Committee. Nancy was a founding director of the UW Foundation and has been a member of the UW Libraries Visiting Committee and the History Visiting Committee.

"Buster and Nancy have come to philanthropy and public service quite naturally," says President Mark A. Emmert, '75. "It's an obvious outgrowth of what they were taught by their parents and they in turn have taught it to their children and grandchildren." The Alvords and their family, which includes 13 UW benefactors, have collaborated to create two endowed chairs in neuropathology and the Harborview Mission of Caring Endowed Fund for Uncompensated Care. They have made many other generous contributions to the UW.

This newest collaboration will help support UW researchers in their work to prevent and treat brain cancer. "This gift will help the UW attract and retain top faculty," says Paul G. Ramsey, UW vice president for medical affairs and dean of the School of Medicine. "We are incredibly thankful for the Alvords' long-standing generosity."

The Alvords have been connected to the UW since 1960, when Buster was named professor of pathology and chief of neuropathology at the School of Medicine. He retired in 2000, but remains involved in neurological research.

The Gates Volunteer Service Award, presented by the UW and Foundation Board, recognizes volunteers whose efforts have encouraged others to support the UW through time, service and philanthropy. For more information about the award, visit uwfoundation.org/rec_thanks/gvsa/gvsa.asp.