| | |
| --- | --- |
| From The President | |
Embracing the UW Legacy
When I arrived at the University of Washington more than 30 years ago, I was a young man from a small town, a first-generation college student. I remember sitting in my first class and thinking that half the population of Fife, my hometown, would fit into the lecture hall. It was, to say the least, a stimulating experience. And it was only the beginning.

My time at the UW transformed my life. It altered the way I thought and felt about the world as well as changed how I envisioned my role in it. When I left, I was captured by interests and ambitions I never would have imagined without the intellectual awakening that happened here.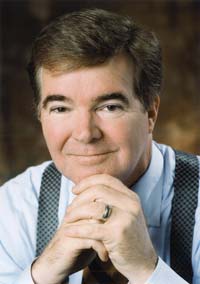 I like telling people about my experience as a student at the UW because it is a story that I think really captures the essence of what we are about at the University of Washington—access to excellence. Many people know about our long tradition of excellence: More federal research awards than any other American public university since 1974; five Rhodes Scholars since 2001; a faculty distinguished by Nobel laureates, MacArthur Fellows and National Academies members; a hospital counted among the 10 best in the nation, and more.

But what most people don't realize is that these stunning achievements—worthy of any elite university on the planet—have arisen out of some wonderfully "non-elitist" roots. Consider the following: The UW ranks third nationally among our peer research universities in proportion of students who receive Pell Grants. One third of our students are first-generation college students. The UW Medical Center serves all patients regardless of where they come from and regardless of their socioeconomic background. Our medical and dental schools have outreach programs devoted to serving underserved populations from rural Washington to rural Alaska.

These characteristics speak to a strong legacy of inclusion and opportunity. It is absolutely essential that we embrace this UW legacy. Toward that end, we have taken steps to maintain the University's proud tradition of accessibility. The Husky Promise and the Students First initiatives are crucial to ensuring that the UW remains open and accessible to students from all backgrounds. This is simply the right thing to do. Accessibility, however, is only part (albeit an important one) of the picture. Once students get here, we owe it to them to provide a world-class education that will transform their lives.

Our students need a world-class education to prepare them for the challenges of the 21st century. Moreover, Washingtonians rely heavily on us to secure our state's competitive edge, especially in light of global economic trends. It's our job to continue to deliver the high level of excellence that people have come to expect from us. We cannot expect this excellence to just happen, though; it requires much hard work and planning.

Just as we have needed to take steps to ensure that our legacy of inclusion and access remains intact, we must have a purposeful plan to help us carry forward our tradition of excellence. We have long lagged behind our peer institutions in per-student funding, and now is a pivotal time for closing that gap. This year we are laying out a multi-year plan that identifies precisely what we need to do and how we need to get there. The plan is essential to making certain that the UW and the state of Washington are prepared to meet the global challenges of the future (see "Minding the Gap," page 28).

Coming to the UW as a first-generation college student, I experienced an awakening that I could not have imagined. It changed my life. I think future generations deserve the same opportunity to experience the access to excellence that distinguishes our alma mater.


MARK EMMERT, '75, President