| | |
| --- | --- |
| A New Look at the Old Days: People's Historian Highlights a Strong Season of Lectures | |
By now, the UWAA/College of Arts & Sciences History Lecture Series has quite a history of its own. When History Professor Richard Johnson was preparing his 2003 lectures—the first in the series' 28-year run not to be given by either Giovanni Costigan or Jon Bridgman—he admitted he was stepping into "shoes that are impossible to fill." But he filled them admirably, and he filled Kane Hall, too. This winter, Johnson, an English-born scholar of American history who is quickly becoming a UW legend in his own right, returns to the series to discuss "The Forces that Shaped America." It's part of an impressive slate of winter-quarter lecture series offered by departments and colleges throughout the University in partnership with the UWAA.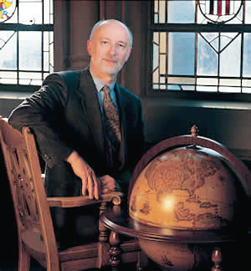 •Joseph Price, a professor at Whittier College, will give the Founders Annual Lecture on Comparative Religion and Contemporary Life, "American Religion and the Super Bowl," at 7:30 p.m., Wednesday, Jan. 31, in Kane 220. It's the first installment in a three-part series on religion and sports presented by the Department of Comparative Religion. Visit UWalum.com for more information and to register.

•The Psychology Lecture Series, "Discovery and Healing: Research Serving Humanity," will feature UW Professor Marsha Linehan and other experts in such fields as visual and cognitive neuroscience, behavioral psychology, suicide and ethics. Visit UWalum.com for more information and to register.

•The College of Forest Resources Centennial Lecture Series, "Sustaining Our Northwest World," opens Thursday, Feb. 8, in Kane 110 with a presentation by Steven Anderson, '79, of the Forest History Society. Visit <UWalum.com> for more information and to register.

•"Leaders to Legends," the Dean's Breakfast Lecture Series of the UW Business School, continues this winter with addresses from Thomas Plimpton, president of PACCAR Inc., on Wednesday, Jan. 17, and Brian Nattrass, managing partner of Sustainability Partners Inc., on Wednesday, Feb. 21. Both will begin at 7:15 a.m. in the Walker-Ames Room of Kane Hall. Call Corinne Goellnitz at 206-221-5749 to register.