Back in Seattle, the Tolan Committee was wrapping up its Congressional hearings on what it called "national defense migration." Five representatives from the UW testified or submitted written statements opposing the incarceration of Japanese Americans. Forestry Instructor Floyd Schmoe argued against internment. Another UW witness, Assistant Dean O'Brien, said, we should "trust our security to the Federal Bureau of Investigation and the Military Intelligence" instead of imposing mass "evacuations."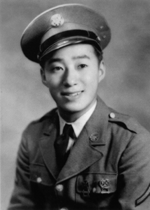 ---

Hiro Nishimura, '48, in his World War II uniform. Photo courtesy of Hiro Nishimura.

---
Sociology Professor Jessie Steiner gave a long account of Japanese immigration to America, ending with a defense of native-born Japanese Americans. "They are American citizens and a way should be found to safeguard their rights and treat them with justice insofar as this is possible in a war emergency," he said.
One representative wondered what would happen if there was a Japanese attack on a Boeing plant. Steiner shot back, "I cannot see how our situation would be materially improved if we simply went ahead and got rid of all our Japanese, first and second generation, unless we took care of the Germans and Italians, also. Unless we did that, we still would have enemies, or potential enemies, in our midst. As to the second-generation Germans, we don't doubt their loyalty. Why should we doubt the loyalty of second-generation Japanese?"
Two UW students showed up without an invitation to speak, and their testimony drew the only applause, according to press accounts. Curtis Aller Jr., '42, a senior from the Yakima Valley, said, "I urge this committee to consider if we can even remotely demand or expect that these American citizens will remain loyal if instead of tolerance, we give them intolerance, mass hysteria and blanket condemnation? Can we ask them to believe in democracy if democracy does not believe in them?"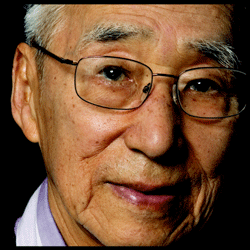 ---

Hiro Nishimura, '48. Photo: Kathy Sauber.

---
The words were eloquent but pointless. That same day, Lt. General DeWitt issued Public Proclamation No. 1 The western halves of Washington, Oregon and California were officially off-limits to anyone of Japanese ancestry. END OF PART ONE.
"The Stolen Years" concludes in the next issue of Columns with a look at the struggles the UW faced in transferring its students, the story of Gordon Hirabayashi's arrest for defying internment orders, and accounts of what happened to students forced into camps or schools away from the West Coast.
Lost and Found
The University of Washington is looking for information on all 440 Japanese Americans listed in the 1941 Student Directory. To view the list, go to the Web site and select "List of Students." Send any information to crick@uw.edu. Donations of letters, diaries and photographs from this period are also welcome.
A Time to Remember
The UW Department of American Ethnic Studies is holding a "Day of Remembrance" at 7:30 p.m. Thursday, Feb. 23, at the Ethnic Cultural Theater to mark the incarceration of Japanese Americans during World War II. The program features award-winning documentary filmmaker Tom Coffman, who will explore the World War II experience of Japanese Americans in Hawaii. Two Nisei from Hawaii will also share their personal experiences of that time and place. The event is free and open to the public.
Tom Griffin has been editor of Columns since it was launched in 1989.
Many portions of his article rely on research by Theresa Mudrock, the history librarian for UW Libraries. For more information on this period in UW history, see Mudrock's Web exhibit, "Interrupted Lives."
Go To: Page 1 | Page 2 | Page 3 | Page 4 | Page 5
Stolen Years - Part One: Reader Comments