O'Brien would be a key player in the effort to keep UW students out of the interment camps and then to try to place them in other institutions. A Quaker who was a member of the sociology faculty, he was the adviser to the Japanese Student Club. He became President Sieg's top aide on the relocation issue, later drawing heat from conservative groups who felt he should be fired.
Professor Emeritus Miyamoto recalls O'Brien as "not the greatest sociologist, but very warm hearted, very socially minded. Society needed to be better than it was and he would contribute to that change."
Even before President Roosevelt signed Executive Order 9066, O'Brien was already working on helping UW students continue their education elsewhere. He explained to pre-med student Norio Higano, for example, that his first year of medical school could count as his last year of undergraduate studies as well. "He told me, 'Go ahead, try to get into medical school. See what happens,' " Higano says.
"It was almost impossible for Nisei to get into medical school," he recalls. Only one took a chance on Higano, even though his grades were spectacular and he would graduate Phi Beta Kappa. He could start at St. Louis University Medical School in June, when, because of the war, its accelerated program was beginning. So in March, before the removal orders were final, Higano left for Chicago, where he would stay until medical school started. "I was able to continue my education flawlessly," he recalls.

During this limbo period, Japanese American students weren't sure what they should do when winter quarter started. "We decided that we'll do the best that we can. We paid our tuition and if possible, we'll continue our studies," says Kenji Okuda, who was a sophomore that year and a close friend of Higano.
Professor Henry Tatsumi, '32, '35, continued to offer Japanese language courses and Miyamoto continued to teach Introduction to Sociology. He found no hostility from his students and no drop in enrollments despite the anti-Japanese rhetoric racing across America. "I have always thought of the University campus as a safety net for people who were likely to be badly treated elsewhere," Miyamoto says.
For Hiro Nishimura, who watched the Japanese vice counsel leave in a panic on Dec. 7, the decision was made for him. He was drafted into the Army in February. "The Army came to my rescue," he says. "It spared me the indignity of evacuation and internment. This was the same army that uprooted my family," he says.
That same month, a rapid series of steps sealed the fate of Japanese Americans. On Feb. 13, the Pacific Coast Congressional delegation sent a letter to Roosevelt recommending "the immediate evacuation of all persons of Japanese lineage and all others, alien and citizen alike, whose presence shall be deemed dangerous or inimical to the defense of the United States." Six days later came Executive Order 9066, authorizing the military to draw up proscribed areas where "the right of any person to enter, remain in, or leave shall be subject to whatever restrictions the Secretary of War or the appropriate Military Commander may impose." Two days after that, the Tolan Committee of the House of Representatives began to hold hearings on the need for mass "evacuations."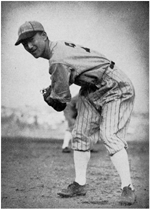 ---

Husky baseball player Joe Kesamura in 1941. Tyee photo.

---
At that point, the Japanese American Citizens League held an emergency meeting in San Francisco. Law student Sakahara, who had dropped out Dec. 8, was active in the league. One of his friends was a Chevrolet salesman and four league members piled into his car and drove to California.
"We were going to demand that American citizens be permitted to stay," Sakahara recalls. As a bargaining chip, they would concede that Japanese Americans could be under military control—a moot point since the Army was restricting movements anyway. But when they arrived in San Francisco, the league leadership had other ideas. "We were told, 'It's no use. It's already been decided.' The discussion now was about resistance in the courts or to take part in whatever activity was necessary to evacuate," he says. The league leadership was trapped. If they opposed internments, they would be accused of being unpatriotic or disloyal.
Go To: Page 1 | Page 2 | Page 3 | Page 4 | Page 5
Stolen Years - Part One: Reader Comments