In 1941, Japanese Americans were the largest minority group on campus. Japanese students had been attending the University of Washington since at least the late 1890s. In 1911, these students founded the Japanese Student Club and in 1922 they opened their own rooming house for men on 15th Avenue N.E., where the Social Work Building now stands. While they didn't have a house, Japanese American women had a social organization, Fuyo Kai.
Both clubs took the place of traditional fraternities and sororities, which at that time banned all Asians and other ethnic minorities. But for many Nisei UW students, a social life was a luxury. When they weren't in school, they lived at home and worked in the family businesses. Many needed help to attend college. In 1941, there were 45 Nisei students in a work-study program run by the National Youth Administration—about 10 percent of all UW students qualifying for this federal financial aid.
Some students felt isolated; others felt somewhat assimilated. Gordon Hirabayashi, '42, '49, '52, (who would later oppose the internments and go to jail) was an officer in the campus YMCA, as was Kenji Okuda. Joe Kesamura was a pitcher on the Husky baseball team; Tad Fujioka, '47, was on the varsity swimming team; and Frank Watanabe, '44, was on the tennis team. The Daily had Dick Takeuchi as one of its beat reporters (he would later be the editor of a camp newsletter).

Cornell University Professor Gary Okihiro, who wrote a book on the fate of Japanese American college students during the internment, estimates that there were 3,300 Nisei attending college on the West Coast in 1941. No one knows exactly how many Nisei attended the UW that year. The best source is the 1941 Student Directory, which has 440 Japanese names, but that list is bound to have some errors or omissions. Other UW sources identify four Japanese Americans as teaching that year.
While these students were American citizens, their parents were not. Immigration law banned foreign-born Asians from becoming Americans. Since aliens could not own land, often family farms and businesses were held in trusts or owned by the eldest son if he was a citizen. "That their parents may be confined in a concentration camp while they faced discrimination and suspicion was held not impossible by many of the students," the Daily reported on Dec. 8. The idea that the Nisei students themselves—all American citizens—might also be sent to concentration camps "didn't cross our minds," says Norio Higano, '42. If the government would start rounding up Japanese, "we felt it would be the non-citizens," adds Roy Inui. "We felt our civil rights would be respected."
But the roundups were already starting. The FBI had a list of leaders in the Japanese community who were not citizens, and that night they started arresting them.
***
Toru Sakahara, the third-year law student, was worried. His father was on a business trip in California. But on Dec. 7, he disappeared. When the news reached him, Sakahara left the UW and returned to the family farm in Fife. "I don't remember telling anyone at the law school. I just dropped out," he says.
Then the sheriff in Yreka, Calif., reported that he had the family's Buick sedan. Sakahara's father had been arrested on the highway in northern California and sent to the Immigration and Naturalization Service in San Francisco. It was relatively dangerous for a Japanese American male to travel in the weeks after Pearl Harbor. Sakahara had to carry a birth certificate to prove that he was an American citizen. But he was determined to find his father.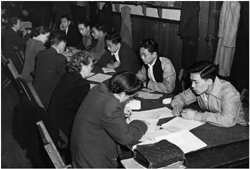 ---

Japanese Americans register with authorities at the Puyallup assembly center. Photo by Howard Clifford, courtesy of UW Libraries, Special Collections, #UW 562.

---
He got on a bus to Yreka, picked up the car and then drove to San Francisco. While he staying with family friends, a nun called to let him know that Japanese aliens rounded up by the FBI were going to be sent to a camp in Missoula, Mont. She told him the time the train was leaving.
"I went to the train station and found my dad. Out of all the internees, he was the only one to have a relative come to see him off. Nobody explained anything. All I could say was hello and good-bye. I think he cried and I think I cried," he says.
Back on the farm in Fife, Sakahara was responsible for six family members. Rumors spread that only aliens were going to be interned. Others speculated that everyone would be sent to camps—citizens and non-citizens alike. But Japanese American farmers had to act as if nothing was going to happen. "If the farmers did not plow and plant vegetables, they would be guilty of sabotage," Sakahara recalls. "And if these crops were in the ground, maybe we would have a chance to sell the crops and get some money. So every day we went out and plowed and disked and planted."
In Seattle, the situation was tense for Nisei students. The Friday after Pearl Harbor, Assistant Dean Robert O'Brien held a meeting. About half of all the Nisei students showed up in Home Economics (now Raitt Hall). O'Brien explained how the UW had already helped nearly 50 students get copies of their birth certificates to prove they were American citizens. Sociology Professor Jesse Steiner went over the curfews and financial restrictions suddenly slapped on Japanese Americans. "Representatives of the University are working in close cooperation with downtown churches and the Seattle Defense Fund to help solve the problems of the American-born Japanese students and their parents," O'Brien said.
Go To: Page 1 | Page 2 | Page 3 | Page 4 | Page 5
Stolen Years - Part One: Reader Comments