December 2005 -
Multicultural Alumni Partnership Honors Six Who Teach, Lead and Serve
The six graduates and friends of the UW honored at this year's Multicultural Alumni Partnership "Bridging the Gap" Breakfast have something in common besides their awards: Every one of them is, in some significant sense, an educator.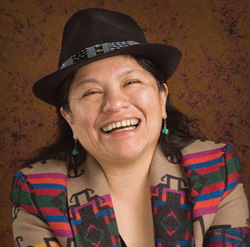 ---

Jeannette Allen. Photo by Karen Orders.

---
Jeannette Allen, Elena Guevara, '88, and Betty Lau, '70, '80, received the Distinguished Alumni and Community Award at the breakfast, held Nov. 5 in the HUB Ballroom. Lois Price Spratlen, '76, accepted the Dr. Samuel E. Kelly Award. Thaddeus Spratlen was recognized with the Special Distinguished Award. And the first annual Diversity Award for Community Building went to Sheila Edwards Lange, '00.
The Multicultural Alumni Partnership supports recruitment and mentoring of students, faculty and staff of color while promoting diversity within the UW and the UW Alumni Association. The group also awards student scholarships.
Allen has logged many thousands of hours, and miles, in her pursuit of future physicians. As program coordinator in the Office of Multicultural Affairs at the UW School of Medicine, she travels all over the country recruiting talented students of color. Allen has been an active participant in the Medicine Wheel Society and the Summer Medical/Dental Education Program, and an enthusiastic supporter of minority students considering careers in healthcare.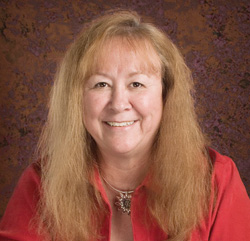 ---

Elena Guevara, '88. Photo by Karen Orders.

---
Guevara has been an invaluable ally for UW students during her 12 years as an academic counselor in the Office of Minority Affairs—a fact attested to by her selection as UW Adviser of the Year in 2003. She has worked tirelessly to bring students from underrepresented minorities to the University, and to assist them when they get here, whether as counselor, adviser to such groups as MEChA and the La Raza Graduation Committee, or simply as a friend. Guevara has also served on MAP's board of directors, and, twice, as its president.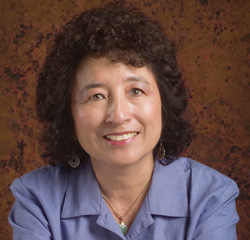 ---

Betty Lau, '70, '80. Photo by Karen Orders.

---
Lau may be best known in the community for her annual Lunar New Year celebration, complete with Lion Dance. But she spends much of her time building community in quieter ways, such as serving as an advocate for immigrant and refugee students in the public schools and piloting programs for world languages in the Seattle School District. Lau is the Department Chair of English Language Development at Franklin High School and Chong Wa Benevolent Association School Board Chair. She is also a past recipient of the Christa McAuliffe Excellence in Education Award.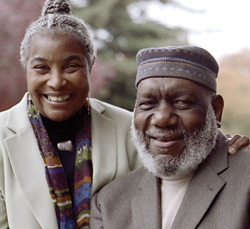 ---

Lois Price Spratlen, '76 and Thaddeus Spratlen. Photo by Mary Levin.

---
Lois Price Spratlen has been an esteemed presence in the fields of public health and mental health since the 1960s, whether as a volunteer, organizer or benefactor. A donor to the Mary Mahoney Professional Nurses Organization, she established and chairs the group's endowed scholarship fund to support people of African heritage who pursue education and careers in nursing. She also chairs the King County Board of Ethics, and serves as University ombudsman and ombudsman for sexual harassment at the UW, where she addresses many issues of diversity, community service and outreach.
Community service has been the hallmark of Thaddeus Spratlen's long career at the UW, where he first joined the faculty as a professor of business in 1972. He has helped the University connect to communities of color with his marketing courses, with his work as an adviser to the Association of Black Business Students, and with the small-business workshops and courses he has offered through community organizations. For the past 10 years, Spratlen has been working with the UW Business and Economic Development Program, through which business students have assisted more than 250 small businesses and non-profit organizations in communities of color.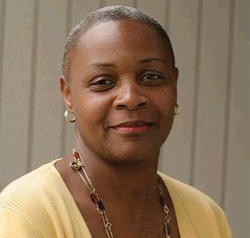 ---

Sheila Edwards Lange, '00. Photo by Mary Levin.

---
While working as research assistant to the President's Advisory Committee on Women, Sheila Edwards Lange wrote the UW's first Faculty Recruitment Toolkit, which has been helping to promote diversity and excellence at the UW ever since. It is now being used at numerous other universities as well. Since 2001, Edwards Lange has been associate director for research at the Center for Workforce Development, where she provides support and encouragement to women and underrepresented minority students in science, engineering and math. She is a founder and board member of the Institute for Public Service Training, which offers training, mentoring and internship opportunities to minority students interested in pursuing careers in public service.
Also recognized at the breakfast were the 2005 MAP Scholarship winners. They are: Christopher Magnata Diangco, a junior studying chemistry and American ethnic studies; Dana Arviso, a graduate student in education; Nicholas McGrue, a senior majoring in American ethnic studies; and Ismenia Gaviria, a junior studying drama and Spanish. Jeremy Joseph, a graduate student in bioengineering, received the Owen G. Lee Scholarship.
If you were unable to attend the "Bridging the Gap" Breakfast but would like to support the MAP scholarship fund , you can send a donation to MAP Scholarship Fund, UWAA, 1415 N.E. 45th St., Seattle, WA 98105. Call 1-800-AUW-ALUM or visit UWalum.com for more information.