December 2005 -

Career Help for Alumni Offered at All UW Campuses in January

Career Discovery Week just keeps getting bigger. Now in its seventh year, the annual opportunity for alumni and students to soak up career advice and make connections has grown to more than 100 sessions on all three UW campuses.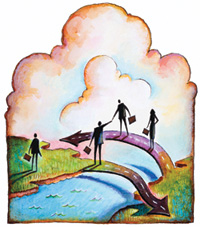 For all intents and purposes, Career Discovery "Week" should be renamed Career Discovery "Month." The presentations, workshops and networking events begin January 18 and continue well into February. "The name doesn't begin to convey how much we're offering," admits Don Gallagher, director of Husky Career Advantage at the UWAA.
More than 200 prominent UW alumni and friends have already volunteered to share their experiences and insights. They'll discuss careers in every field, from medicine to humanitarian work to entertainment. One forum is even designed to shatter the stereotype that English majors can't do anything but teach English. (Last year, that 12-member panel included a music editor at amazon.com, an attorney, a couple of corporate presidents and a homicide detective.)
While it began as a grassroots effort by UW academic advisers to help students, Career Discovery Week now also features an alumni track—one of the main drivers of its expansion. This year, there will be more than a dozen sessions dedicated to helping recent UW graduates as well as those who are at transitional places in their careers, with subjects ranging from early career passions to dependable strengths.
Career Discovery Week also includes numerous social and networking events for alumni and students of numerous academic units, including the Jackson School, the Department of Economics, and the business schools of both the Bothell and Seattle Campuses.
Career Discovery Week is presented by the UW Alumni Association in conjunction with the Office of the Vice President for Student Affairs, the Center for Career Services, participating partners on all three campuses, and community sponsors Kaplan and University Book Store.
For more information, visit the website.