Mark Haselkorn is not in a good mood. It's September 1, the water is still rising in New Orleans, and the Hurricane Katrina relief effort is an unmitigated failure.
"Once again, we're four days into the thing and it's communication problems, it's 'who's in charge?' " Haselkorn says. "You know, you'd think it's our country and FEMA would have everything under control. They don't."
The failure offends him at several levels. As a human being, he's aghast at the suffering. As a professor of technical communication in the College of Engineering and a former resident of the French Quarter, he resents the mismanagement all the more bitterly and feels the loss all the more personally. And as the founding director of the University of Washington's new Interdisciplinary Program in Humanitarian Relief (IPHR), he's frustrated for yet another reason—the way nations deal with disasters, which is to wait until they happen and then throw money at them.
It's a risky subject to raise, as Elizabeth Kolbert pointed out in the New Yorker, because to most Americans "a disaster of [Katrina's] magnitude seems to demand not dispassionate analysis but simple human empathy." But according to Haselkorn, a dose of dispassionate analysis is just what the conversation needs. "The disaster-response organizations are going to get plenty of money. They won't even be able to spend it all. Same thing happened with the tsunami. I can't tell you the phenomenal amount of tsunami money that has yet to be spent. And that's not to take away from the heroic effort that's going on. It is heroic. It is necessary. It's just that there's a role for researchers, a role for thinkers as well as doers, in this sector," he says.

The University of Washington may now be thinking, and doing, more about the need for improved humanitarian relief efforts than any other academic institution, thanks to Haselkorn and a group of like-minded scholars from a remarkably diverse range of disciplines. Through the new interdisciplinary program—a collaboration among the Marc Lindenberg Center in the Evans School of Public Affairs, the College of Engineering, and the Center for Internet Studies—they're trying to change the way people prepare for and respond to disasters. It is the first of its kind in the nation.
"We need to play our role as a university," Haselkorn says, "to get the research done, to professionalize the field, to think about systems, to think long-term. Because everybody else, as expected, is worried about those people on the roof. And they should be. But the fact is those people wouldn't be on the roof if the universities were doing a better job of doing research, and if the whole world thought about research as part of the humanitarian activity. That's my soapbox."
Hindsight may be 20/20, but Haselkorn was on his soapbox long before New Orleanians were on their roofs. In late 2003 he began having conversations with Elaine Chang, then acting director of the Lindenberg Center, about ways in which engineering and humanitarian relief might be synthesized in a program of academic study. The following spring, he taught the University's first-ever course on "Humanitarian Logistics." A few months later, he and three colleagues co-wrote a proposal for "a new interdisciplinary program in humanitarian relief at the University of Washington," citing "a self-acknowledged lack of professionalization" in the field. And in January, just after the tsunami devastated South Asia, Haselkorn published an op-ed piece in the Seattle Times in which he noted that the emergency management sector "reinvents itself with each new catastrophe." From where he stands, the bungled responses to Katrina—symbolized by the image of hundreds of unused, half-submerged school buses—and, more recently, the earthquake in Pakistan, are "terrible ways of being proven right."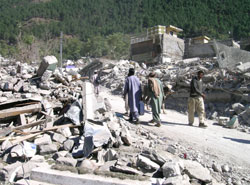 ---

Thousands died in the Oct. 8 earthquake that struck Pakistan, India, and Afghanistan. Photo credits: Gregory Takats, AusAID.

---
The lack of professionalism, Haselkorn adds, has nothing to do with a lack of professionals. On the contrary, humanitarian relief attracts extraordinarily hard-working, resourceful people. But there's no degree that credentials them, as he pointed out in his Times article, "or journal devoted to research on improving humanitarian-relief systems. Field workers learn on the job and there is a turnover rate of nearly 80 percent per year" in the non-governmental organizations, leaving few veterans to mentor the newcomers.
The program intends to remedy some of that, beginning with the professional credential. As of this past fall, the UW is offering what may be the field's first frame-worthy piece of paper—a certificate in relief. It's a one-year program, which students from a wide variety of disciplines can complete while working toward their advanced degrees. Along with some core courses in systems and logistics, the requirements include a substantial "practicum"—several weeks of hands-on relief work.
Randy Kemp, an information school Ph.D. candidate, will be part of the first wave of 31 students to receive the certificate, although he may have trouble finding a place for it on his wall—he already holds degrees in international relations, information library studies and Christian studies. Kemp says he hopes to spend his practicum in the Middle East or North Africa, studying the feasibility of a user-friendly Geographic Information System (GIS) device for recovery efforts. GIS technology is a sort of "intelligent mapping," often derived from satellite imagery, that links data to location. Though the device exists only in Kemp's imagination, it has clearly been there for a while now.
Go To: Page 1 | Page 2 | Page 3
Sidebar
: Higher GROUND - Charmain Chatman - Katrina affected UW exchange student.