June 2004 -
Our Back Pages
Final Honors
Every time Hiro Nishimura, '48, passes the William Kenzo Nakamura Federal Courthouse in Seattle, he raises his hand in a salute.
Those salutes usually come while riding a bus. Nishimura hasn't driven downtown since he turned 80. He says he likes viewing the building from the large bus windows. Seeing a Japanese name on it makes him feel proud.
The courthouse was renamed four years ago to honor Nakamura, a UW student who in 1942 was forced to leave his books for the bleak barracks of internment camps. The military officials who ordered Japanese Americans into the camps never could have imagined that Nakamura would earn the nation's highest military award—the Medal of Honor. Unfortunately, it took the U.S. 56 years to recognize Nakamura's heroic deeds after he died in combat.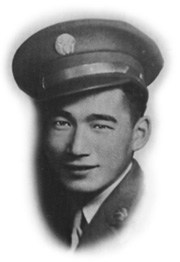 ---

Private First Class William Kenzo Nakamura. Photo courtesy of the Seattle Nisei Veterans Committee.

---
Nakamura grew up in the International District, graduating from Garfield High School in 1939. He spent his summers working at a salmon cannery in Alaska to save money for college. Nishimura worked at the same cannery, but says he never considered Nakamura one of the group.
"He didn't have friends in Alaska," Nishimura remembers. "He was the youngest one up there. He was lonely in Alaska, so he followed us around like a lost puppy dog and we'd ignore him."
Jim Mayeno, a neighborhood friend, remembers him as "carefree…maybe a risk taker." In a Seattle Times article, Mayeno said Nakamura would often speed down the hills of Seattle on his bicycle—no hands—after football practice.
At the UW, Nakamura lived at the University Students Club, a fraternal organization for male Japanese American students. He would be one of six club members to die in combat during World War II.
In May 1942, the Army moved Seattle-area Japanese Americans into "Camp Harmony" at the Puyallup fairgrounds. Later that year most were incarcerated in Camp Minidoka in Idaho. In the camps Nakamura met Hisako Deguchi, a woman two years younger than himself, and married her after a short courtship. According to the Seattle Times, the marriage went against his family's wishes, but Nakamura had a reputation of being a bit of a rebel.
"I was astounded…he got married in the camps. He was so young, not many guys had girlfriends in the camps," Nishimura says.
Even more surprising, Nakamura volunteered for the Army immediately after his wedding, again an action that went against the wishes of his family. Nishimura said he was astonished when he learned what Nakamura did. "I said what kind of guy would get married in the camp and then enlist? I don't think I would have done that. It takes a different breed.
"He got swept up with the other Nisei (second-generation Japanese Americans) that volunteered," says Nishimura. William Nakamura's brother, George, volunteered for the Army a few months before Nakamura enlisted.
On the battlefield, Nakamura was known as more of a leader than a follower. He was a private in the highly decorated 442nd Regimental Combat Team, which was made up almost entirely of Japanese Americans. On July 4, 1944, the regiment was passing a lonely field near Castellina, Italy, when shooting broke out. Nakamura crawled through shrubs under heavy fire and threw four hand grenades wiping out a German platoon and saving his entire company.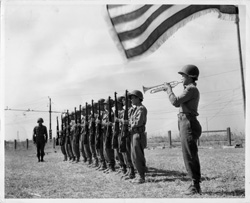 ---

Members of the 442nd Infantry Battalion hold a memorial service in Italy in July, 1944, to honor the 72 soldiers who died in combat that month, including Nakamura. Photo courtesy U.S. Army, the Seattle Nisei Veterans Committee and Densho: The Japanese American Legacy Project.

---
But it cost him his life. His body was found with a bullet wound to the head. His commanding officer at the time recommended him for the Medal of Honor, but Nakamura was passed over. During the war, only one soldier in the 442nd received the Medal of Honor, presumably because of the Army's racial bias.
That changed in 2000, when President Bill Clinton awarded Nakamura and 21 other Japanese Americans the Medal of Honor for their service during World War II. Of the 300,000 Americans that fought in the war, only 462 were awarded the Medal of Honor. "Twenty-two of those men were Japanese Americans," Nishimura says. "That's an amazing statistic."
When he salutes the Nakamura Courthouse, Nishimura says he is not only recognizing someone he knew personally, but all the Japanese Americans who fought in the war. "It could be anyone's name on there. I'm honored for all the Japanese Americans," he says.
—Erin Hicks