LOOKING UP THE SNOQUALMIE HILL CLIMB from Pacific Avenue to the stately, historic campus of the University of Washington, Tacoma, it's hard to imagine that, as recently as 20 years ago, it didn't exist. Instead of the cleverly restored brick buildings housing a bustling campus; instead of the trees and walkways inviting pedestrians in; instead of the shops and eateries lining the street-two decades ago there stood rows of cavernous, dilapidated warehouses-unused and unwanted relics of bygone days.
Built between 1890 and 1911, they were products of an economic boom following the arrival of the Northern Pacific Railroad. But by 1980 Tacoma's Warehouse District was a ghost town. No one lived here. No businesses operated here. City Mayor Bill Baarsma says that you could have fired a bazooka through the Warehouse District and not hit anything but pigeons. "It was an embarrassment because it was the entry to downtown," he adds
A poster child for urban blight, one of the worst-looking structures was the abandoned Snoqualmie Falls Power House, built in 1902 to provide electricity to the city's trolley system. Two decades ago, the building was decayed and crumbling, home to a flock of pigeons. Today, reconstructed, with an addition and a huge chandelier by Dale Chihuly hanging from the ceiling, it is the UWT Library, the intellectual center of an institution educating more than 2,000 students.
"It was the bravest decision made by any higher education institution in North America, " says UWT Adjunct Instructor Michael Sullivan, a Tacoma historian,. Renovating historic buildings is famously fraught with costly surprises, Sullivan explains, and for a public institution to take a chance on renovating idle historic buildings in a town that was suffering from urban blight took guts.
Bill Philip, who last spring received UWT's first Community Founders Award for contributions to the school, remembers thinking it was a crazy idea to renovate the warehouses. Philip, at the time president and CEO of Puget Sound Bank, chaired a group of local business leaders called the Executive Council that was instrumental in efforts to get a UW campus in downtown Tacoma.
"I was a conservative banker and I thought, boy, that's gonna cost a lot of money," Philip remembers he was in favor of demolishing the warehouses and starting fresh. "I'm sure glad they didn't listen to me," he says.
"Those buildings were stoutly built. They had already survived several earthquakes," says Sullivan. "There weren't too many surprises."
Although the city boasts two private universities, Tacomans have long desired a public university to call their own. In the mid-'80s, when civic leaders began addressing the city's problems, many talked about the advantages a university could bring. There would almost certainly be an economic boost. And with few educational opportunities for adults in Pierce and Kitsap counties, the state recognized a dire need for university access, especially for non-traditional and place-bound students. What's more, the population of south Puget Sound was expected to explode by 1995, when the beginnings of the baby-boom echo would hit college age.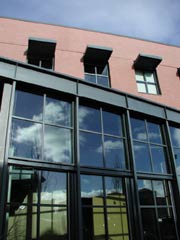 ---

A section of the UWT Keystone Building. Photo by Brian Anderson.

---
Into the mix came Ryan Petty, a Texan from Austin who arrived in Tacoma in 1986 to take charge of the Economic Development Board for Tacoma-Pierce County. Petty had seen what the University of Texas had done for Austin's booming economy. "I came from a city that enjoyed a significant higher education presence, which was a great tool for economic development, as well as an educational benefit for students," Petty says. He and the development board decided to try to get a "name brand" university campus in Tacoma, and began to make overtures to UW and Washington State University.
But the UW wasn't buying. It had just come out of devastating budget cuts that had closed 24 degree programs and laid off hundreds of staff and non-tenured faculty. UW leaders felt that state resources were too scarce to spread across additional campuses. So, using a bit of reverse psychology, Petty knocked at WSU's door, peddling a Tacoma campus to then-President Sam Smith. He reasoned that if WSU expressed interest in setting up shop in UW's backyard, that would probably provoke a response. In spring 1987 Petty invited Smith on a helicopter ride over Tacoma to look at possible campus sites. When the story hit the papers, UW became officially interested in a Tacoma campus.
In the late '80s, the state Legislature, which alone has the authority to build additional campuses, was loaded with people who wanted to see higher education expanded. Among them were the House majority leader, Brian Ebersole, a native Tacoman; and Puyallup legislator Dan Grimm, chair of the House Ways and Means Committee. The two joined forces to form a local advocacy group, the South Puget Sound Higher Education Coalition, to sway public opinion. The coalition was chaired by Fred Haley, president and CEO of the Brown and Haley candy company, a well-known Tacoma civic leader, and Phyllis Erickson, who chaired the House Higher Education Committee.
"Fred convened these meetings in the back office of his candy company and we would strategize about how to seek support," Ebersole remembers. The group raised support in the media, lobbied legislators, kept communication lines open with the University and spoke to civic groups.
The issue began officially moving forward when the state's Higher Education Coordinating Board took action. In 1987 it issued its first master plan for higher education, proposing a statewide "branch campus" system. The board charged both UW and WSU with identifying and assessing educational needs for upper division and graduate programs. UW was to study the Puget Sound area; WSU studied other areas in the state that were under served.
Go To: Page 1 | Page 2 | Page 3