December 2004 -
Support Men's Basketball—and the UWAA—Dec. 19
There's no better way to show your Husky pride than coming out to watch the Huskies take on North Carolina State in men's basketball action on Sunday, Dec. 19, at Bank of America Arena—and becoming a member of the UW Alumni Association at the same time. At the UWAA's Basketball and Membership Kickoff Event, you can cheer on the Huskies (ranked in the top 25 in several preseason polls) and show that you're a loyal member of the Husky Pride Team by joining the alumni association.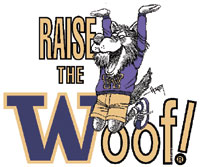 ---

"Raise the Woof" T-shirt designed by David Horsey, '75

---
As a UWAA member, you'll be showing your support for the UW, and you can take advantage of some great deals at the same time.
Sign up at Bank of America Arena the night of the game and you will receive a membership premium—a "Raise the Woof" T-shirt designed by David Horsey, '75, the two-time Pulitzer Prize-winning editorial cartoonist of the Seattle Post-Intelligencer. You will learn about special benefits for Alumni Nights at Husky basketball—Jan. 15 for the men's game against Oregon State, Jan. 27 women's game against Stanford, and the Feb. 5 Husky Hoops Jump Start game against UCLA.
Of course, there are dozens of benefits to being an alumni association member. You can find out all the benefits of membership at . Husky Pride. Be part of it.