December 2004 -
Inside Job: Alumni Get Free Help with Career Transitions, Networking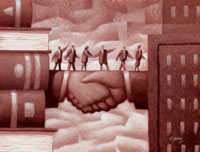 Networking, career transitions and job options are just a few of the topics covered during the Sixth Annual Career Discovery Week, which will be held Jan. 24-28 on the UW Seattle and Bothell campuses. More than 70 presentations, workshops and special events will be offered, among them: "When It's Time for a Change: Tips Regarding Successful Career Transitions," which features a panel of UW alumni and a resource packet on strategies for success.
On Jan. 27, learn how to leverage your connections effectively in "Huskies Helping Huskies: Tips Regarding Effective Networking and the Career Connections Tool." You will also get an introduction to Career Connections, the worldwide network of more than 4400 alumni who are more than happy to help fellow Huskies jumpstart their careers or forge a career transition. For the location of this 6 p.m. event, see www.careerweek.washington.edu.
But UW professional advice isn't just limited to Career Discovery Week. The UW Alumni Association Husky Career Advantage program organizes clinics and seminars throughout the year.