December 2004 -
FIRST TAKE
UW News from Across the Campus and Around the World
Not So Extreme Makeover
The Sylvan Theater, one of the University's "sacred spaces," is closed until next fall while the site of the UW's four columns gets a facelift. Diseased trees must go; the soggy ground is finally being regraded; ramps and walkways will be remade for visitors and students who may have physical disabilities.
But the UW will preserve the historic character of the space next to Rainier Vista and the Paul Allen Center for Computer Science & Engineering, which has been the home of the columns since 1921. While the grove itself is under construction, the columns will stay in place. Made out of cedar in 1861, they have already been reinforced with steel I-beams anchored in concrete. Their ionic capitals, once wooden, are now fiberglass duplicates molded from the originals.
---
King for a Day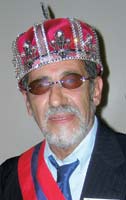 Roberto Maestas, '66, '71, the founder and director of El Centro de la Raza, a Seattle community service and civil rights organization, is known as a firebrand. Raising "unholy hell" trying to diversify the UW while he was a student (and at the same time protesting the Vietnam War), his commitment to social justice continued after graduation with the founding of El Centro as a center for people of all races. So imagine his surprise when he—and not a more traditional civic leader—was named king of the 55th Seafair this past summer. "It was a bit of a twist," Maestas deadpanned. When he was approached by Seafair officials, he wondered if they were serious. "Are you sure?" he asked. He is the first Latino to serve as king of the summer festival, riding in the famous Torchlight Parade.
---
Topless Denny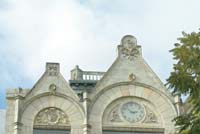 Seems like Denny Hall—the first building on UW's current campus—lost its head this fall. Students coming back for fall quarter found it covered in scaffolding and missing its famous bell tower. In the summer, a giant crane removed the tower, and workers carefully took it to a warehouse in Everett for restoration. Its famous Denny Bell, which hung from the UW's original 1861 building, has been off campus for several years, undergoing its own restoration. The tower will return to campus in early 2005 and the UW plans to hang the historic bell once more in its campus home.
---

"Sometimes after a big play, you get the sensation of a small earthquake rumbling upward." - Bob Rondeau, Husky football play-by-play announcer, quoted in the new book Husky Stadium: Great Games and Golden Moments, by W. Thomas Porter and Jim Daves.
---
The Good Book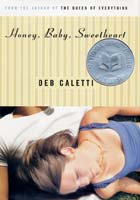 A 2004 National Book Award finalist, Deb Caletti, '85, studied journalism during her time at the UW "because nobody ever really becomes a novelist." As a finalist in the Young People's Literature category for her second book, Honey, Baby, Sweetheart, Caletti has put her pen where her mouth is. In her new book, Caletti explores the world of Ruby McQueen, a quiet girl looking for the true meaning of love. Caletti lives in Issaquah with her family where she also spends time as a painter and lyricist. The National Book Award finalist offers some advice to aspiring writers on her website: "If you want to be a writer, have the determination of a dog with a knotted sock. Sink your teeth in and don't give up."
---