December 2004 -
EXTRAS
Tom O'Keefe
"I think I'm still 21 and that I can go streaking tomorrow," laughs Tully's Founder Tom Tully O'Keefe, '72. The UW alumnus's memories of his college years remain fresh, particularly on the heels of his coffee company's partnership with the University to exclusively supply hundreds of campus caffeine addicts with their daily fix. The UW awarded the contract in July. "We were fortunate enough to have won the taste test, the beauty show," he says. He's pleased that Tully's will have such school-wide influence. But streaking the campus (twice) fueled by something other than caffeine is not O'Keefe's only recollection of his college years. Friendships are another, and many of those relationships have withstood the test of post-college life. "The most wonderful one was I met my wife," O'Keefe says. The two have been married for 26 years and have three children, one of whom is finishing up studies here at the UW.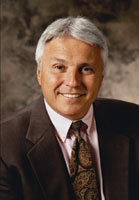 ---

Tom O'Keefe. Photo courtesy of Tully's.

---
The New England native was a member of the Phi Delta Theta fraternity at the UW, and enjoyed intramural flag football, basketball and softball. He says, "For four years in a row we won the softball IMA championships." After graduation, he went into real estate. He was so successful that Starbucks approached him about leasing a space in his shopping centers—which sparked the idea for his own coffee company. He opened Tully's first doors—in the same space Starbucks had been asking about—in 1992. Today Tully's is a $50 million corporation with coffee shops in four states and Canada.
Interestingly, 'Tully' serves O'Keefe as both a middle name and a nickname, rising out of an early sense of freshman self-preservation. "In the first week of school, everybody starts getting a nickname. I heard some bad nicknames," he laughs. "So when I signed up for flag football, I signed up as "Tully"—I gave myself my own nickname." He says some of his old college buddies were confused when, years later, they saw his "nickname" on his wedding invitations.
O'Keefe and his wife also make charity an integral part of Tully's culture, and many of their favorite causes have arisen from situations with people they know. In response to learning that a child of one of their friends had cystic fibrosis, the two helped create the first cystic fibrosis "guild," which has gone from raising tens of thousands of dollars to millions. Juvenile diabetes is another; O'Keefe co-founded the Juvenile Diabetes Guild of Greater Seattle.
In celebration of the UW-Tully's partnership, the coffee company has come out with the "Husky Blend." A percentage of the sales goes to UW athletic and academic programs. The 10-year contract with the UW solidifies an already strong bond O'Keefe feels with the University. "A lot of people think they're going to be lost," he says of incoming freshmen. "But as big as the school is, I found it to be pretty intimate."
—Niki Stojnic