December 2004 -
EXTRAS
Tracy King: 1931-2004
Tracy King, '53, who as executive director led the University of Washington Alumni Association through the biggest expansion in its history, died Aug. 22. He was 73. King became the association's director in 1979 and helped boost the organization's membership from 15,000 to nearly 50,000 before his retirement in 1990. Today the association is among the top 15 dues-based alumni groups in the nation.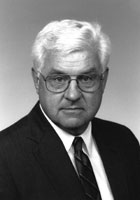 ---

Tracy King. File photo.

---
He was also known for his ability to make friends. "Tracy drew a lot of friends from a lot of different backgrounds," said his wife, Joan. "He was just the kind of guy that people would call, and they loved him.".
King was born in Seattle and grew up in Bellingham, Aberdeen and Vancouver, Wash. He attended high school in Vancouver, Wash., and earned a degree in business from the UW in 1953. He attended the UW on a football scholarship, and played tight end and offensive guard under Coach Howie Odell. "They gave him an opportunity to go to school, and he always felt indebted to the University," his wife said. "He thoroughly and deeply loved the University."
He began his career in the insurance industry as a top-producing sales agent for New York Life in Seattle. That led to his rejoining the UW in 1973 as director of the University's retirement and insurance office.
During King's time at the alumni association, the University and UWAA revamped their alumni magazine, changing its name to Columns and increasing its readership to include all living UW alumni in the U.S. The alumni asociation also started a mentoring program linking minority alumni with UW Educational Opportunity Program students.
"He certainly understood the goals and objectives of the association, and the University benefited greatly from his enthusiasm and his expertise," said John Bissett, '58, who preceded King as the UWAA's executive director.
An avid fisherman and golfer, King was a member of the Sand Point Country Club and Seattle Golf Club. He was also active in the Tyee Club, Seattle Downtown Rotary and Washington Athletic Club. He is survived by his wife of 30 years, Joan; sons Tracy Jr. of Wenatchee; Don of Kelowna, B.C.; Ted of Park City, Utah; and David of Port Angeles; four stepchildren; and 15 grandchildren.
—Jon Marmor