December 2004 -
Briefings
Gilbertson Out as Football Coach; Search Begins for Replacement
UW Athletics Director Todd Turner announced Nov. 1 that Football Coach Keith Gilbertson would step down at the end of the season on Nov. 20 and that a search has begun for a replacement.
The announcement came two days after a 31-6 loss to Oregon and a season that, at that point, had a 1-7 record, the worst since 1973.
In making the decision, Turner said, "Our football program, our university, needed to make an explicit statement about the future of Husky football."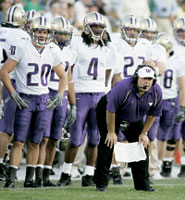 ---

Coach Keith Gilbertson watches from the sidelines. Photo © 2004 Joe Robbins.

---
Turner said when Gilbertson took over the coaching job in July 2003, after the sudden firing of Rick Neuheisel, it was a program in turmoil. "When he took over, the chance of being successful was very small," he noted (see "Bouncing Back, Sept. 2003).
He added that the UW owes much to Gilbertson and that "he will always be part of the UW family."
Gilbertson said he was obviously disappointed, but added, "I'm not angry at the University of Washington. I love this place. It's been part of my family for three or four generations."
Gilbertson first worked at Washington as a graduate assistant for Football Coach Don James in 1976. In 1989 he left the head coaching position at Idaho to return to Washington as the Huskies' offensive line coach. He took over as the team's offensive coordinator in 1991, the year the Huskies went 12-0 and shared the national championship. After working for the Seattle Seahawks from 1996-98, he returned to Washington as an assistant coach from 1999-2002. His overall UW record stood at 7-13 when Turner announced the coaching change.
Turner said he made the announcement before the season was over to remove any distractions from the team and let them "focus on the job at hand."
His goal is to have a new coach on board soon, but Turner added that "we will not rush. Our goal is to get the right person." Turner said that he will be looking for someone with integrity and "flawless character" and who has significant experience working on a college campus. "I'm looking for someone who will fit our league and be able to recruit in the West and the Pacific Northwest," he added.
President Mark Emmert was personally involved in the hiring of LSU Football Coach Nick Saban when Emmert was chancellor at that institution and Turner said he will be working closely with the President throughout the hiring process. He said there will be a small advisory committee that will meet the final candidates.
The salary of the new UW coach is likely to exceed $1 million-the amount spent on Rick Neuheisel to lure him away from the University of Colorado in 1999. Currently, the highest paid college football coach is LSU's Saban, who recently signed a seven-year, $18.45 million contract.