December 2004 -
ALUMNOTES
Mort Lachman, '39
Los Angeles, comedy writer and producer, has been inducted to the Dept. of Communication's inaugural Alumni Hall of Fame. Beginning as a writer for Bob Hope in the late 1940s, Lachman continued his career in television as a producer for numerous acclaimed series including: All in the Family, One Day at a Time, and Kate and Allie.
Barbara Erickson London, '42
Long Beach, Calif., returned to Seattle for the opening of the Personal Courage Wing at the Museum of Flight. She was one of the original members of the Women's Auxiliary Ferrying Squadron and the Women's Air Force Service Pilots of World War II. While in Seattle, she also visited her old flight school, Kurtzer Flying Service on Lake Union, as well as Boeing Field and the UW campus. "Such memories!" she writes.
Mary Bemis Melton, '47
Tucson, Ariz., writes that she "married an Argentine and had three children there. Enjoyed this charming country but we returned here and the children have done well. I have six grandchildren and great-grandchildren. I was a PE major, Mortar Board, Totem and president of my sorority. I am looking to see if anyone is out there," she writes.
William H. Stewart, '47, '55
Kent, celebrated his 80th birthday with his wife of 45 years, Lois, and all five of his children and their spouses. His children include Bob, '83, '87; and Bob's wife, Gretchen, '83, '87; and Jim, '90, and Jim's wife, Angie, '90.
James King, '48
Seattle, retired executive editor of the Seattle Times, was inducted into the Dept. of Communication's Alumni Hall of Fame on Oct. 7. King is a former UWAA trustee and former chair of the Columns Advisory Committee.
Attention, Class of 1955:
The date of your 50th reunion has been changed from the weekend of April 22, 2005. If you are interested in serving on the reunion committee or volunteering at the event, please contact Andrea Fleming at 1-800-AUW-ALUM.
Dave Altaras, '57
Bellevue, reports that he has retired for the third and last time. He sold his pharmacy in 1996, and continued to work part-time for some friends. "At age 71, it is time to go play," he writes. He still lives in Bellevue, skiing, golfing and going to the gym, and will celebrating his 50th wedding anniversary in December.
Frederick L. (Fritz) Hull, '58
Clinton, is founder and director of the Chinook Learning Ctr. and the Whidbey Inst. on Whidbey Island. He is the author of Earth & Spirit, active with the U.N. Earth Charter, and director of a new program, Integral Spirit—Journey into Wholeness and Sacred Responsibility. He just celebrated his 40th wedding anniversary with his wife, Vivienne, '64.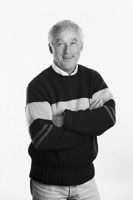 ---

"Fritz" Hull, '58

---
Alan D. Miller, '58, '67
Indianola, retired from the UW, but remains active in salmon habitat restoration. Miller is board president of the Mid-Puget Sound Fisheries Enhancement Group.
J. Shan Mullin, '58
Seattle, was presented with the YMCA of Greater Seattle's A.K. Guy Award on Oct. 29. It honors his volunteer leadership with such organizations as the Seattle Alliance for Education, Cancer Care Alliance, Fred Hutchinson Cancer Research Ctr., Municipal League, United Way of King County and the UW.
You must be a member of the UW Alumni Association to be listed in the Alumnotes section. To join, call (206) 543-0540 or 1-800-AUW-ALUM, or visit UWalum.com on the Web.
Attention, Class of 1961:
A 1961 UW class ring was found in June near Sloan Square in London, England. The owner's initials are engraved in the side of the ring, which is a male's ring. Contact Columns at columns@u.washington.edu and we will put you in touch with the finder.
Rita Colwell, '61
Bethesda, Md., was inducted into the National Women's Hall of Fame in October. She became the first woman and first biologist to head the National Science Foundation in 1998. Colwell was the UW Alumna Summa Laude Dignata in 2000.
Russell F. Tromley, '61
Tualatin, Ore., has been elected to the Harvard Business School Alumni Assoc. Board of Directors. His term runs until 2007.
Sharon B. Beach, '62, '72
Snoqualmie, received the Census Award of Excellence at a May 25 ceremony at the U.S. Census Bureau headquarters in Washington, D.C.
Clarence F. Seeliger, '63
Decatur, Ga., was elected for the fifth time as Judge of the Superior Court of DeKalb County, Ga. In his 24th year on the bench, he also received the DeKalb County Chief Executive Officer Great American Award for his contributions to civil rights.
Ron L. Van Pool, '65
Federal Way, was re-elected president of USA Swimming, the national governing body for Olympic swimming in the U.S. He also serves on the board of directors of U.S. Sports Insurance and USA Swimming Foundation. He previously served on the board of the U.S. Olympic Committee.
Gale Case, '67
Simi Valley, Calif., received the Distinguished Service Award from the California Society of CPAs. As the organization's president from 1995-96, Case worked to build a stronger relationship with the American Institute of CPAs, where he served for several years on the governing council.
Gary T. Sandum, '67
East Wenatchee, a driver for United Parcel Service, is a new member of the UPS Circle of Honor, which commemorates 30 years of accident-free driving.
Victoria Jager Kenna '68
Bellingham, won a scholarship to Salamanca, Spain, in the 1990s for designing and teaching immersion-style Spanish classes for Washington state grade schools.
Robert Merry, '68
McLean, Va., was inducted to the Dept. of Communication's inaugural Alumni Hall of Fame. President and publisher of Congressional Quarterly, Merry began his career as editor of The Daily. He is the author of Taking on the World: Joseph and Stewart Alsop–Guardians of the American Century, and a member of the Columns Advisory Committee.
Eric Nalder, '68
Suquamish, is an inductee of the first Alumni Hall of Fame of the Dept. of Communication. Nalder is a Seattle Post-Intelligencer investigative reporter who has won two Pulitzer Prizes.
Charles P. LeWarne, '69
Edmonds, was awarded the Robert Gray Medal from the Washington State Historical Society. The honor recognizes his lifetime contributions to Washington history.
Daniel Janik, '70
Honolulu, announced the release of his newest book, A Neurological Theory and Method of Language Acquisition. The book contains his special theory of language learning and general theory of learning. He is coordinator of academic English and university credit programs at Intercultural Communications College in Honolulu.
Eric Skone, '70
Redmond, recently retired after 37 years as a pilot for United Airlines. He and his wife have two adult sons.
Christine Gregoire, '71
Seattle, former Washington state attorney general and gubernatorial candidate, was inducted to the Dept. of Communication's new Alumni Hall of Fame on Oct. 7.
Patricia Smiley, '71
Los Angeles, had her first mystery novel, False Profits, published in November by Time Warner Book Group's Mysterious Press.
Scott M. Kirkpatrick, '72, '81
Sumner, received a master's of public administration in May from Cal State Sonoma. He is currently manager of Sound Transit's $233 million Central Link light rail acquisition and relocation program. He was previously assistant city manger of Cotati, Calif.
Rick Nash, '72, '76
Bow, and his wife, Ann L. Bodle-Nash, '73, announce that they are empty nesters, now that daughter Brooke graduated with her B.S. in nursing from the Univ. of Portland. Daughter Laura and son Stuart are majoring in engineering at Rose-Hillman Inst. of Technology in Terre Haute, Ind.
Norm Rice, '72, '74
Seattle, former mayor of Seattle, was named to the Dept. of Communication's Alumni Hall of Fame on Oct. 7.
William R. Tymczyszyn, '72
Torrance, Calif., reports that his late father, Joseph, '48, was awarded a monument on the Aerospace Walk of Honor on Sept. 11. Administered by the City of Lancaster, Calif., the Walk of Honor has for 15 years recognized test pilots who have made significant contributions to the advancement of aviation. Joseph Tymczyszyn was the 1989 recipient of the College of Engineering's Distinguished Alumni Award.
Suzanne L. Walker Carr, '73
East Wenatchee, is completing her master's degree in flute performance and flute pedagogy, a goal she set aside while raising her two sons. She spent 18 years as a salesperson, programmer, sales manager and operations manager. She also owned and operated a music store in Ballard.
Paul Kronfield, '73
Houston, has joined Exponent, Inc. as business development manager. Kronfield provides environmental services and failure analysis engineering to the oil and gas industry.
Jerilyn McIntyre, '73
Ellensburg, was named to the Dept. of Communication's first Alumni Hall of Fame. McIntyre is president of Central Washington University.
Assunta Ng, '74
Seattle, was a keynote speaker at the Dept. of Communication's first Alumni Hall of Fame ceremony, as well as an inductee into the hall of fame. Ng is publisher of the Chinese Post and the Northwest Asian Weekly. She is also a member of the UWAA Board of Trustees.
David Horsey, '75
Seattle, has been inducted into the Dept. of Communication's inaugural Alumni Hall of Fame. A two-time Pulitzer Prize-winning cartoonist for the Seattle Post-Intelligencer, he is one of 14 communication graduates honored by the department.
Edmund K. Joyce, '77
San Diego, is now working at the Copley News Service as a wire/copy editor. He previously worked for a weekly newspaper in the Caribbean.
Steve Pool, '77
Seattle, was inducted into the Dept. of Communication's new Alumni Hall of Fame. As television weather forecaster at KOMO News, Pool has received seven Emmy Awards and has been a guest weathercaster for Good Morning America more than 80 times.
Dennis Gill Booth, '78
Lexington, N.C., was named assistant dean of design and production at the North Carolina School of the Arts in Winston-Salem, N.C. He has been on the faculty for 12 years, teaching technical direction, theatrical rigging, drafting for the theater, stagecraft and fundamentals of scenery.
Julie Ahrens Muhlstein, '79
Everett, is a columnist at the Herald newspaper in Everett. She is a veteran of the Daily in the mid-1970s. You can read her column at www.heraldnet.com.
Rich Abel, '79
Sammamish, recently became director of operations at Cello Technologies, a systems integrator specializing in high-end residential applications. He and his wife, Karen, '79, have three children.
Constance Haas, '79, '91
Rochester, N.Y., was appointed to the voice faculty of the Eastman School of Music in July. She has been featured as a recitalist and oratorio soloist with orchestras such as the Seattle Symphony, the Northwest Chamber Orchestra and the Spokane Symphony.
You must be a member of the UW Alumni Association to be listed in the Alumnotes section. To join, call (206) 543-0540 or 1-800-AUW-ALUM, or visit UWalum.com on the Web.
Cindy Gatens, '80
Columbus, Ohio, works as a clinical nurse specialist in rehabilitation at the Ohio State Univ. Med. Ctr. She received the 2003 Natl. Assoc. of Rehabilitation Nurses Educator Role Award.
Tamar Katriel, '80
Haifa, Israel, was named by the Dept. of Communication to its Alumni Hall of Fame on Oct. 7. Katriel is a professor of communication at the Univ. of Haifa.
Ron Moe, '80, '82
Federal Way, is an owner of R.W. Beck, Inc., a Seattle management consulting and engineering firm. For more than 20 years, he has been providing consulting services to electric utilities.
Lynn Carrigan, '81
Vashon, is a full-time lecturer at the UW School of Social Work. She also is an adjunct lecturer in the School of Medicine's Dept. of Medical History and Ethics, where she co-teaches a multidisciplinary class on spirituality in health care.
Jon Davidson, '81
Westlake Village, Calif., is VP of Aspen Environmental Group, which provides environmental consulting services in California and Arizona.
Julie McDonald Zander, '82
Winlock, launched her own business in 2001 as a personal historian. Her business, Chapters of Life Memory Books, designs keepsake books from photos and other memorabilia and also creates first-person, audio recording narratives of clients' lives. Julie is also the NW regional coordinator for the Assoc. of Personal Historians.
Eric Bode, '83
Vancouver, Wash., is an associate at Walker Macy, a landscape architecture firm based in Portland, Ore.
Kenneth Lyles, '83, '03
Seattle, joined the Fishermen's Terminal at the Port of Seattle as general manager after graduating from the UW Evans School of Public Affairs last winter.
Heather Barbieri, '85
Seattle, reports that her novel, Snow in July, was selected as a "Riveting Read" by Glamour magasine. She received an Artist Trust Literary Fellowship in 2004.
Carl H. Olivetto, '85
Tacoma, graduated from Seattle Univ. law school in 1988 and is a member of the Washington state bar. He and his wife of 13 years, Ryong, own a small business in Federal Way and Lynnwood.
Laura Gail Cosacchi Adams, '86
Bellevue, owns LaConrik Communications, a media consulting company that serves PBS producers, stations and distributors. She is also the video producer for Renton's City View. She has two children, Conor, 10, and Ricky, 8.
Thomas J. Richardson, '86
La Conner, graduated with a master of arts in security studies in the first course in this subject offered at the Naval Postgraduate School in Monterey, Calif. Richardson is a captain with the Seattle Fire Dept.
Kathleen Miller, '87
Sammamish, a public relations executive who runs her own agency, was inducted to the Dept. of Communication's first Alumni Hall of Fame.
David Bardsley, '88
Shaftsbury, Vt., went to medical school at Jefferson Medical College in Philadelphia, where he met his wife Holly. They have two boys. Bardsley is a board-certified emergency medicine specialist and has practiced in Pennsylvania, Alaska, Missouri, Wisconsin and now in Massachusetts.
You must be a member of the UW Alumni Association to be listed in the Alumnotes section. To join, call (206) 543-0540 or 1-800-AUW-ALUM, or visit UWalum.com on the Web.
Coleen McArthur Weglarz, '90
Wolverine Lake, Mich., and her husband, Paul, welcomed their first child, John Francis, on Dec. 18, 2003.
Lori Banaszak, '92, '03
Tacoma, has been named dean of health and human services at Clover Park Technical College in Lakewood. She is the founding president of the UW Tacoma Alumni Assoc.
Daniel K. Miller, '95
Bainbridge Island, and his wife, Robin, '96, announce the birth of their first child, Joshua Edward Miller, on Aug. 17 at Swedish Medical Center. Dan is an account director for the marketing firm DDB Seattle. Robin owns and operates Miller Speech/Language Pathology.
Chris Nishiwaki, '95
Bellevue, was elected to the Board of Trustees of Artist Trust, a non-profit organization that provides support to artists in Washington state. He is active with many non-profit groups in the Seattle area and is on the UWAA Marketing, Membership and Communications Committee.
Virginia Parks, '98
Santa Clara, Calif., is working as an engineer for the city of Menlo Park, Calif. She assists in the management and operation of the water systems, storm-water pollution prevention program, and a closed landfill that also serves as a city park.
Jeffrey C. Pratt, '98
Seattle, continues to work at Amazon.com in Seattle. He is technical program manager for Amazon's customer service applications team.
Burleigh T. Surbeck, '98, '01
Bellevue, and his wife, Katherine McGlenn Surbeck, '95, recently welcomed a daughter, Caroline Grace. Burleigh is practicing orthodontics in downtown Bellevue.
Michael Delabarre, '99
Issaquah, has been named CFO of the Boeing business unit that provides mobile information services, Connexion by Boeing. He had been director of finance for Boeing Airborne Information Surveillance and Reconnaissance programs.
Catharine Hamel, '99
Puyallup, is senior district executive and exploring executive for Pacific Harbors Council, which serves more than 2,000 youths in Boy Scouts of America.
Joseph A Lubin, '99
Bothell, was promoted twice this year: to the rank of security specialist with the U.S. Dept. of Commerce and to the rank of first lieutenant in the U.S. Army Reserve. He is serving as the detachment commander for 3/909th AG postal detachment in Kuwait.
Julie M. Lokis, '00
Bonney Lake, is attending the Univ. of London, Royal Holloway, where she will complete her doctoral thesis on 19th-century French women's history in 2005. She has been in Paris for the last year doing research with the Sorbonne.
Angela Childers, '01
Phoenix, completed her two-year commitment to Teach for America. She earned her master of education degree from Arizona State Univ. in May 2002. She has been working as a third-grade teacher for three years.
Rosemarie Beringer, '02
Tacoma, landed her dream job of selling pharmaceuticals after a long search for the right company. "Never give up on your dream," she writes.
Ron Chew, '02
Seattle, was named to the Dept. of Communication's Alumni Hall of Fame on Oct. 7. Chew, executive director of the Wing Luke Asian Museum, is a founder of the Seattle chapter of the Asian American Journalists Association.
Cheryl Raleigh-Duroff, '02
Seattle, is president-elect of the Assoc. of Advanced Practice Psychiatric Nurses in Washington State. She is a psychiatric nurse practitioner and has one grandchild.
Pamela Gail Nelson, '02
Kent, was promoted to research supervisor for the Dept. of Neurological Surgery at Harborview Med. Ctr.
Chris Nielsen, '02
Syracuse, N.Y., married Jennifer Helly, '02, on Aug. 14. Helly earned a master's degree in education from Syracuse Univ. in May and teaches special education in the Syracuse area. Nielson will graduate from Syracuse Univ.'s College of Law in the spring and has accepted a position with the King County Prosecutor's Office.
Heather A. Anderson, '03
Seattle, and her husband, Jim, welcomed their first child, Sarah Catherine, on June 8.
Ben J. Arstad '03
Edmonds, is developing GIS program at Landau Associates, where he has worked the past seven years.
Kelly L. Hilborn '03
Federal Way, is a financial planner with MetLife Financial Services.
Darren Hopper, '03
Seattle, is working as a project engineer in construction management.
Mary Wiser, '03
Redmond, was married in December 2003. She works as a staff accountant at AT&T Wireless.
Kristine Campbell, '04
Renton, is the Washington state representative for the Childbirth and Postpartum Professional Assoc. She is a certified "doula," certified childbirth educator and certified lactation educator. She was the 1991 president of the Husky Hostesses and Hosts program. She has two children.
>Richard Jurevic, '04
Chicago, is associate professor and director of graduate studies for the Dept. of Oral Medicine and Diagnostic Sciences at the Univ. of Illinois at Chicago.
Aura Wade, '04
Kirkland, accepted a two-year assignment with the Peace Corps to serve as a youth development volunteer in Morocco.
You must be a member of the UW Alumni Association to be listed in the Alumnotes section. To join, call (206) 543-0540 or 1-800-AUW-ALUM, or visit UWalum.com on the Web.
---
Submit a Class Note
Tell us what major events have happened in your life: a new job, marriage, children, retirement, advanced degrees, you name it.

Submit an Obituary
Please let us know if a UW alumnus has died. Be sure to include date of death, place of death and age along with the UW class year (if known).

Update Your Records
Moving soon or know someone else who has? Let us know so that we can keep Columns coming to you.

Contact Information
Columns Magazine
1415 N.E. 45th Street
Seattle, WA 98105
Phone: (206) 543-0540
Fax: (206) 685-0611.
E-Mail: columns@u.washington.edu