"I remember the first game we ever did," recalls Rondeau. "I was terrified. The Huskies played UCLA in the 1978 conference opener and Bruce spent half the week trying to learn how to pronounce Tuiasosopo because Manu was playing for UCLA then. But we somehow managed to get through it, and the buzz I felt afterward was remarkable and still one of the best feelings I've had professionally."
After two seasons under King's tutelage, Rondeau was more than prepared to tackle the play-by-play when King left for WABC radio in New York. Over the next few years, Rondeau spent countless hours with defensive coordinator Jim Lambright watching game film, asking questions and taking notes in an effort to improve his understanding of the game. It was there in the bowels of Husky Stadium that he truly learned the ins and outs of college football.
"I was impressed as a coach that he would want to come in and study the game with us," says Lambright, who developed a close relationship with Rondeau during their time together. "There's an awful lot of reporters out there who don't take the time to get to know the game, but Bob had a great curiosity about him and always asked a lot of good questions."
Rondeau's enthusiasm for the job and willingness to learn helped him hone his skills throughout the Don James era. And as the football team improved, so did Rondeau. He eventually caught on as play-by-play announcer for the men's basketball games too, and swapped Lambright's guidance for that of legendary Husky hoops Coach Marv Harshman. As Lambright had done for his knowledge of football, Harshman was able to do for his grasp of basketball. "Marv was a genius," says Rondeau. "And in this business, there's always room to learn. I've never stopped that process, which is part of what keeps me fresh."
Staying fresh is essential to staying on top, which wasn't always clear to Rondeau as a young and seemingly invincible journalist. "I smoked cigarettes when I first started," he says. "I even used to smoke during the games, which was awful. I really needed that cough switch on the microphone to clear my throat, and that's not exactly conducive to doing good work on the radio. In the end, that was one of the main reasons I quit smoking."
Despite the smoker's cough, Rondeau never lost his voice during a broadcast. In fact, he's never even missed a game due to illness or injury ("Knock on wood," he says). His perfect attendance record over the past two decades has allowed him to take part in many of the Huskies' highs and lows—from national championship football and Sweet Sixteen basketball to NCAA sanctions and perpetual last-place finishes.
Unfortunately, it's been the hardships that have struck a chord in Rondeau despite the thrill of Washington's successes. "The most difficult time I can recall is when Don [James] resigned. He was just an unbelievably gifted football coach and I will always have tremendous respect for him. But to see his character questioned was really difficult. I could understand it, but I hated to see it.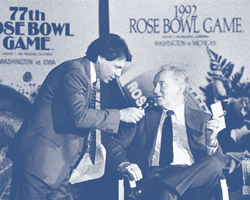 ---

Bob Rondeau interviews Husky Football Coach Don James prior to the 1992 Rose Bowl. Photo by Joanie Komura.

---
"Having to cover that story and try to be objective was hard, but it was my job to function every inch as a journalist. I wasn't bothered to be in that position because I was just doing my job. But it was hard to see the program held up to that kind of scrutiny and get slapped around like it did."
Things didn't get any easier on Rondeau when Lambright was fired following a mediocre 1998 football season. Likewise, he was saddened by Rick Neuheisel's termination after the former coach admitted to gambling on college basketball tournaments. "I feel bad for Rick, he's a very good coach and a dynamic individual. But sometimes you don't want to get too friendly with people in this business for that very reason. They can rise so high and fall so fast."
Nevertheless, working with the Huskies over the years has been rewarding in many ways. He enjoys the constant turnover of players and coaches and the ability to travel to new places and meet new people on a regular basis. "I remember going back to Colorado in 1990," says Rondeau. "It's one of my favorite games ever. The Dawgs lost, but it was the first time I'd been back to Boulder in ages. I had watched games in that stadium while I was going to school there, but to go back in and actually call one was special. It's been a real treat to go to these places and have that turn into your work environment."
Nowadays, with more than 20 years of experience, radio has become more or less Rondeau's home away from home—a place where his inhibitions are laid to rest and his voice can reign supreme. "From day one I've always enjoyed radio," he says. "I really like the intimacy and immediacy of it all, and I certainly can't imagine a better situation to be in with a college program. The UW is first class in terms of its national exposure and the way it's embraced by the community."
There was a time, however, when Rondeau considered testing the waters of television to find out how good he really was as a broadcaster. And in 1986, when KOMO lost the Huskies to KIRO radio, Rondeaušs opportunity arose. He turned his attention to television for several years, but when KOMO took back the rights in 1989, the "Voice of the Huskies" was ready to go home.
Go To: Page 1 | Page 2 | Page 3
Sidebars: Words of Wisdom | Top 10 Husky Moments