In October of 2000, the football game between Washington and Stanford was put on hold late in the third quarter while paramedics attended to downed Husky safety Curtis Williams. Silence crept over Stanford Stadium following a helmet-to-helmet collision that 18 months later would claim the life of the 22-year-old senior. And though time itself seemed to stop, the radio broadcast did not.
Bob Rondeau was just as dumbfounded as everyone else as he kept a watchful eye on the action from the press box high above the field. With no television coverage that day, he was well aware listeners were glued to the radio, thirsting for every last drop of drama and detail. And as the veteran broadcaster watched the tragedy unfold through a pair of binoculars, there was only one thing he could do—just keep talking.
The game eventually resumed and, despite a fallen teammate in the hospital, the Huskies pulled out an improbable 31-28 victory on Marques Tuiasosopo's last-second touchdown pass. It was an amazing comeback for the UW and an unforgettable experience for its play-by-play announcer. "When I got to the end of the game, I was ready to cry," says Rondeau. "It was emotionally the most memorable game I've ever been involved with."
From the Curtis Williams tragedy to the magical 1991 national championship season, Rondeau has seen it all in his 20 years with the Huskies. He can't wait to see what else the Huskies have in store, having signed a five-year deal with Action Sports Media to serve as director of broadcasting for the Husky Radio Network.
From kickoff to tip-off, touchdown to technical, radio is a perfect fit for the effervescent Rondeau. "I get paid to watch sports," he says. "It doesn't get much better than that. And if you love going to games, there's no better way to do it than going to call one. It's way more fun at the end of the day to be able to call the game from start to finish."
It's one thing for a broadcaster to be a fan, says Rondeau, but getting too close to the team you cover can definitely have its drawbacks. The most important thing to do is try and remain a journalist first and a fan second. "I love the games for what they are," he says. "I love the individual chapters and stories they bring to the table. But at the end of the day, if they get beat—then so be it. I don't want the fact that they get beat to ruin the experience for me."
Still, that hasn't stopped him from showing his emotions every now and then. "Bob is very passionate about the games," says Chuck Nelson, '82, a former UW place-kicker and Rondeau's current broadcast partner. "He certainly gets fired up when things go wrong, and sometimes manages to hit his binoculars against the desk real hard. The look on his face when he picks them back up and realizes they're not right is just great."
Busted binoculars aside, Rondeau's top priority has always been putting out the best radio broadcast possible. And as long as everything goes smoothly, the game's outcome can take a backseat. "I don't live and die by the winning and losing," he says. "Some of the best games I've ever seen are ones they lost. I'd like to think that win, lose or draw, I'm still pretty good at what I do."
"People in the broadcast business are often criticized for being prejudicial toward their team," says Bruce King, who worked the1978-79 Husky football seasons with Rondeau on KOMO radio. "Sure, you'd like to see them have success, but that's just not what it's about. Bob is a professional, and he's always been fair and honest with everyone."
Growing up in Denver, Rondeau had visions of a newspaper or magazine career long before broadcasting came along. Unable to find work as a print journalist after graduating from the University of Colorado in 1972, the only job he could hang on to was driving a forklift in a Denver produce warehouse. Then he came across an opening for a news director at a small radio station in Cortez, Colo. "I had taken a broadcast sequence in college, but had never really aspired to radio or television. Then I thought about it and realized anything sounded better than driving a forklift," he says.
After less than a year in Cortez, Rondeau bounced around a bit before landing what he believed to be a steady job at KRUX radio in Phoenix. Unfortunately, the station folded a few months later. "When that happened," he says, "I started thinking about getting out of the business for good. But I did some nosing around and found that KOMO radio in Seattle was looking for a sports director. Until my job interview I'd never even been to the Northwest, but I was very impressed with what I saw to say the least."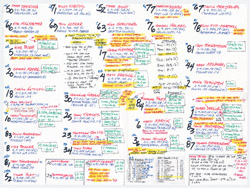 ---

During his broadcasts, Rondeau uses a detailed sheet with team lineups and quick facts on players. Here is a portion of the sheet he used during the 2002 Apple Cup.

---
Rondeau met with KOMO executives in May 1977 at a restaurant called Francisco's on 1st Avenue. They explained that it was an exciting time for sports in Seattle—the Mariners were in their first year and the Seahawks had just wrapped up their second--and KOMO was looking to expand its roster to meet the growing market. "It was fun coming to Seattle," says Rondeau. "I'd never done any play-by-play before, but I knew enough about sports and was a good enough reporter that I was confident I could handle that. I guess I was just excited to make a change."

Less than a year after he arrived in the Emerald City, Rondeau was thrust into the spotlight when KOMO secured the rights to broadcast Husky football. Being the new kid on the block, he served as color commentator while King handled the play-by-play. "At first Bob would just listen to me and put his hand out when he wanted to talk," says King. "But he had a terrific voice, and there was no question in my mind that he was going to be very good. It was a great opportunity for him to get his feet wet, and we both had a terrific time with it."

Go To: Page 1 | Page 2 | Page 3


Sidebars: Words of Wisdom | Top 10 Husky Moments