Share Your Memories as Bridgman Prepares UW History Lectures
History Professor Emeritus Jon Bridgman, who for many years presented sold-out lecture series for the UW Alumni Association and College of Arts and Sciences, will give a special lecture series next fall on the history of universities, with an emphasis on the University of Washington.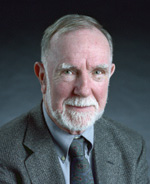 ---

History Professor Emeritus Jon Bridgman

---
The series begins in September and runs through October 2004. A corresponding exhibit of UW historical items will be on display in Suzzallo Library during Fall Quarter 2004. More details will be announced in the March Columns.
All alumni are invited to share their memories and historic UW items to make this exhibit an extraordinary and comprehensive look at UW history.
Organizers are looking for descriptions of a defining moment during the time alumni spent at the UW. "The memory might be the professor who inspired you, the moment you met your spouse, the big game, or any other exciting event," says Alumni Relations Manager Karen Demorest. A selection of these memories will be included in exhibit.
Organizers are particularly interested in receiving old UW photos and memorabilia for display. Alumni have the option of lending the artifact for the exhibit or donating it to the University Libraries Special Collections. As there are some items the library will not accept, such as Tyee yearbooks, the alumni association will provide alumni with a special form that must be filled out prior to shipping any material.
That form and more information will be in the March issue of Columns. In the meantime, alumni should start thinking about special memories of the University. "We want to hear from you--in a letter, a fax, an e-mail or however you choose," says Demorest. For more information, visit UWalum.com