FIRST TAKE
UW News from Across the Campus and Around the World
Playing Stork: UW Police Deliver Future Husky
---

UW Police Officers Oscar Maysonet and Joe Sandall hold little Amarra Marie Garcia-Anderson shortly after helping deliver her on the morning of Aug. 7 at a student-housing complex. Photo by Third Andresen.

---
After listening to a garbled radio message on the morning of Aug. 7, UW police officers Oscar Maysonet and Joe Sandall thought they were responding to a burglary. But when they arrived at a student-housing complex, they found a mother in active labor.

The couple was trying to leave for the hospital when the mother felt the baby coming. When the officers arrived, "Dad was already delivering the baby, and the baby was almost out," Sandall says.

Sandall took over helping the mother while Maysonet tried to calm the father down. Sandall cleared the baby's airway, and she was breathing on her own her own by the time Seattle Fire Department paramedics arrived. "The baby looked fine, she looked beautiful," says Maysonet.

UW Police Chief Vicki Peltzer commended them for their "outstanding police work." "It was more Dad than us," Sandall shrugged. "Actually, it was more Mom than all of us. We just had to catch the baby."
---
A Harry Election
Unlike presidential elections in Florida, the 2003 Capital One National Mascot of the Year competition ensures that your vote really counts—especially since you can vote daily at Capital Bowl until Dec. 22. Your vote (or votes) for UW's Harry the Husky might just be the ticket to a $5,000 prize and a national television advertising campaign. "The University is behind Harry 100 percent in his quest for this prestigious title," says Athletic Director Barbara Hedges. Among Harry's talented and fuzzy competitors are two dogs, two cats, two chickens, an alligator, a buffalo, a bear, a buckeye and one big red blob. Online voting results will weigh 50 percent in the final decision (the judges' ranking will constitute the other half). The winner will be announced during the Capital One Bowl on Jan. 1, 2004.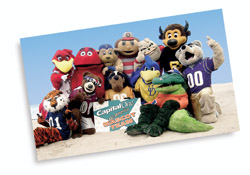 ---

Harry the Husky(far right) is in the running to become the National Mascot of the Year. He is vying against 11 other college sports mascots in a contest sponsored by Capitol One. Photo courtesy of Capitol One.

---
---
Rising From the Ashes
A groundbreaking ceremony Sept. 30 marked the start of construction to replace the Center for Urban Horticulture's Merrill Hall, which was fire bombed in May 2001 by domestic terrorists [see "From the Ground Up," Dec. 2002]. Construction is expected to take 11 months. The $7.2 million for design and construction includes funding from the UW and state, as well as about $1 million in donations. The new Merrill Hall will have 20,000 square feet of space, including an expanded lobby to showcase information about plants, gardens and urban resources. The center will have a system to collect and reuse water from the roofs of all the buildings that surround the courtyard, one of several building features to promote sustainable use of natural resources.
---
Not the Image of Health
After undergoing a recent CT scan at the UW Medical Center, the Burke Museum's Egyptian mummy, "Nellie," was found to have four feet. Turns out that a pair that had been displayed for years did not belong to her. Moreover, most of her bones had been removed and her chest cavity had been filled with chicken wire and polyurethane foam sometime in the 20th century.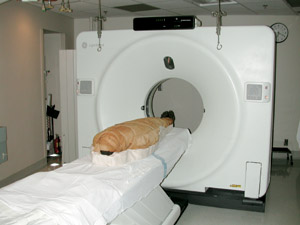 ---

"Nellie," the Burke Museum's Egyptian mummy, undergoes a CT scan at UW Medical Center that revealed some surprising news-- she had four feet and most of her bones had been removed. Photo courtesy of the Burke Museum, Archaeology Department.

---
"Eventually we would like to undo what people thought was 'fixing' her in the 1960s," says Laura Phillips, the Burke's archaeology collections manager. "To add fake feet to the mummy is not appropriate. She was mummified with all of her parts in preparation for her journey into the underworld and this is why we are preserving all her bones."
Nellie is now resting in a new $20,000 climate-controlled glass display as part of the Burke's new exhibit "Reverent Remembrance: Honoring the Dead," which runs through Feb. 22. Nellie's entire conservation project cost around $46,000.
In 1902, former UW Regent Manson Backus bought Nellie, who dates to the Ptolemaic period between 305 and 34 B.C., from the National Museum of Egyptian Antiquities of Giza. Backus later donated the mummy to what is today's Burke Museum.