ALUMNOTES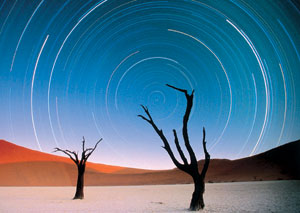 ---

This time-lapse photo of the evening sky is in Art Wolfe's new book, Edge of the Earth—Corner of the Sky. Photo courtesy Art Wolfe.

---
John E. Newstrom, '34, '35
Medford, Ore., and his wife, Virginia, celebrated their 68th wedding anniversary this year. After getting his master's degree in chemical engineering, he went to work with Standard Oil of California (now ChevronTexaco) in 1935 and retired in 1974 as manager of the corporate department on organization and compensation. They have four children, six grandchildren and one great-grandchild. They have been living in retirement for the past 12 years in Oregon's Rogue Valley.
Grace R. Thomke, '34
Seattle, received an honor this past spring when she was appointed affiliate instructor in the UW School of Pharmacy.
Joseph Sutter, '43
Seattle, has been inducted into the Slovenian Academy of Engineering. Sutter, called the "father" of the Boeing 747, is "one of the great descendants of Slovenian parents who, due to their inventiveness, creativity and hard work, were able to attain a great success in a foreign country where the engineering work and creativity are more valued than in Slovenia," the award says. Sutter, who belongs to the National Academy of Engineering and was presented with the National Medal of Technology in 1985, received the Alumnus Summa Laude Dignatus Award from the UW in 2001 as its alumnus of the year.
Ira W. Rimel, '47
Beach, N.D., was included in the 58th edition of Who's Who in America. He was recognized for his achievements as an award-winning writer, U.S. Navy supply officer, real estate broker, appraiser and real estate specialist.
Henry A. Reasoner, '48
Bellingham, and his wife, Melbourne, "have been very busy being retired since 1979," he writes. He spent 20 years with the state Dept. of Natural Resources, and continues to be active in the Washington Farm Forestry Assoc. as president and board member of the Whatcom County chapter.
SEEKING ART WORKS BY LIONEL H. "SPIKE" PRIES
Architecture Professor Jeffrey Ochsner is seeking information on the life, career and works of UW Architecture Professor Lionel H. "Spike" Pries (1897-1968) for a proposed biography. Pries taught architecture at UW from 1928 to 1958. Pries was also active in the Seattle art community. Pries exhibited oils or watercolors at the Annual Exhibitions of Northwest Artists in 1928, 1935, 1936, and 1937, and had a solo show of his watercolors at the Henry Art Gallery in 1946. Ochsner is searching for Pries watercolors and oils to use as illustrations in the biography. Anyone who has knowledge of Pries watercolors or oils should contact Ochsner at 206-685-8454, by e-mail at or write to him at the UW Department of Architecture, Box 355720, Seattle WA 98195-5720.
Lois Constantine, '52
Seattle, and her husband, John, '52, celebrated their 50th wedding anniversary June 14.
Ken Helms, '52
Seattle, retired from his ad agency in 1991. Since then, he has been dividing his time visiting his three daughters in Paris, Denver and Minneapolis. He also takes an annual jaunt across the country with his wife, Sandra, in their RV or on their Harley Davidson.
Leona Kaufman Larson, '52
Des Moines, completed five years of teaching master's-level courses and online instruction. She is a consultant to private schools and has a private tutoring company. She was recently married to Robert Larson. They live in Normandy Park, where they remodel homes.
Dolores Healy Lang, '53
Mount Vernon, operates a horse riding farm in Mount Vernon. She also does traveling pony shows for company and private events.
Attention, Class of 1954
Your 50th reunion will be held during Homecoming weekend in 2004. If you are interested in serving on the Class of 1954 reunion committee, please contact Suzanne Mercier at the UWAA at 1-800-AUW-ALUM.
Dorothy Collins, '55
Moorhead, Minn., has written a weekly gardening column for a local Midwest newspaper for 47 years. She was one of the first women to join the U.S. Coast Guard in 1943.
Ronald Pyke, '55, '56
Woodinville, and his wife, Gladys, will celebrate their 50th wedding anniversary on Dec. 19. Ronald received his master of science and Ph.D. in mathematics from the UW, and was appointed to the faculty of the mathematics department in 1960. He is currently professor emeritus.
Kathleen Dwyer Duyck, '56
Phoenix, and her husband, Bob, traveled to the Pacific Northwest with their three children for a week on the Oregon Coast. They celebrated Kathleen's 70th birthday with family and friends at the Portland, Ore., Hilton on the Waterfront.
Fred Jessett, '56
Sammamish, had his unpublished novel When Drummer Loved Dancer chosen as a finalist in the 2003 Pacific NW Writers' Assoc. Literary Contest.
Clifford G. Anderson, '58
Shoreline, and his wife Jane, '74, celebrated their 50th wedding anniversary earlier this year with a trip to New Zealand and Australia. They have three sons and three grandchildren and have lived in Shoreline for 45 years.
Roger V. Kelly, '58
Seattle, retired from Kennedy Associates, Inc., an investment counseling firm, in 2001. He was elected chairman of the board for Seafair for 2003-04.
David Mitchell, '59,
Seattle, a retired restaurateur and newspaper publisher, reports that his granddaughters, Allison and Ashley, dress up every year as UW and WSU cheerleaders for the Apple Cup. His daughter, Laurie, went to WSU but married Dan Moriarty, '87. "If you look at the photo, you can tell who won the Apple Cup," he writes.
Hamilton Cravens, '60, '62
Ames, Iowa, had his book The Social Sciences Go to Washington: Politics and Knowledge in the Postmodern Era published in the fall by Rutgers Univ. Press. He is a professor of history at Iowa State Univ.
Shirley Ruble, '61
Seattle, retired after 20 years in the Seattle City Attorney's Office. She recently enjoyed a Mediterranean cruise to Venice, Dubrovnik, Corfu, Santorini, Rhodes, Athens and Genoa.
Gordon P. Fouts, '62
Kirkland, joined Puget Sound Properties as VP of investment and industrial sales after 20 years with Colliers Intl.
Oliver Skanse, '65
Hagatna, Guam, is 79 years old and still teaches music in Guam's public schools' gifted and talented education program. "In May 2004, I will be 80 and it will be time to retire," he writes.
Suzy Mygatt Wakefield, '65
Kirkland, served as editor of the book Unfocused Kids: Helping Students to Focus on Their Education and Career Plans, published by Educational Resources Information Clearinghouse/Counseling Student Services.
Don Olson, '66
Camarillo, Calif., retired from the Naval Air Warfare Ctr. at Point Mugu, Calif., after 35 years and now enjoys traveling.
Ivan Doig, '69
Shoreline, had his newest novel, Prairie Nocturne, published in October by Scribner.
Paul Hunter, '69
Seattle, had his book, Breaking Ground, published by Silverfish Review Press. The book is a collection of farming poems spanning 100 years of lifestyle, hopes and dreams lived on the land. He also has been a letterpress publisher for the past nine years, with 20 books set in type and illustrated with hardwood block prints.
Shirley Malcom, '69
Clarksville, Md., was named the 2003 Technical Achiever of the Year by the Natl. Technical Assoc. She is the education and human resource program director for the American Assoc. for the Advancement of Science. She received the Alumna Summa Laude Dignata Award as the UW's alumnus of the year in 2000.
Mark Richards, '69
Lake in the Hills, Ill., was promoted to assistant VP of human resources of the Natl. Assoc. of Independent Insurers.
Jeannette Franks, '70, '76, '80, '96
Bainbridge Island, is a consultant who provides families with elderly members information to make informed decisions about long-term care. She was formerly the executive director of the UW Retirement Association.
Herman L. Boschken, '72
Davis, Calif., received the Best Book Award from the Public and Non-Profit Division of the Academy of Management for his book Social Class, Politics, and Urban Markets: The Makings of Bias in Policy Outcomes. A professor of organization and policy at San Jose State Univ., he held a Fulbright Distinguished Chair in Canada in 2000-01. In 2003, he published a follow-up article to his book in Urban Affairs Review, and his case study, Vail Resorts, Inc., was published in the sixth edition of the book Strategic Management, edited by Charles Hill and Gareth Jones.
Stephen Chess, '72
Mercer Island, is an investment adviser at Martin Nelson & Co., a Seattle-based private company.
Marilyn Pires, '72
Long Beach, Calif., has been working as a rehabilitation clinical nurse specialist at Rancho Los Amigos Natl. Rehabilitation Ctr. for the past 14 years. She is certified as an advanced practice rehabilitation nurse. Last year, she was inducted as a Fellow in the American Academy of Nursing.
Richard Tracey, '72, '89
Carlsbad, Calif., was named VP of marketing for Kagan Publishing and Professional Development of San Clemente, Calif. He lives in northern San Diego County with his wife, Ann Caitilin McCarthy, '73.
Curtis Deane, '73
Washington, D.C., is the principal of Woodley Lion Consulting, a firm he established to provide fund-raising counseling to non-profit organizations.
F.I. Goldhaber, '75
Corvallis, Ore., had her short story Finding Magic honored in the Paul B. Duquette Memorial Short Science Fiction Contest. The story, which won third place, appears in the anthology CrossTIME Science Fiction Anthology Vol. 2.
Larry Kinner, '75, '77
Mukilteo, was named managing principal of EverTrust Asset Management, an investment advisory firm and trust company owned by EverTrust Bank. "The challenge of heading a start-up firm in this volatile investment climate is made easier by lessons learned at the UW," he writes.
Gloria E. Kinney, '75
Seattle, is in her sixth year as a docent at the Burke Museum.
Elaine Childs Gowell, '76
Seattle, was presented with the Muriel James Living Principles Award at the Intl. Transactional Analysis Assoc. conference in Oaxaca, Mexico.
Thomas Haff, '76
Seattle, teaches physics at Issaquah High School. He and his wife of 27 years, Melody, '75, have three daughters. Melody teaches English as a second language.
Pat Hansen, '77
Seattle, was elected president of the board of directors for the Boys & Girls Club Rotary Branch. She has been an active member of the Central District club since 1977. She is the owner of Hansen Design.
Elaine O'Neill Odum, '77
Rye, N.Y., was elected to the Natl. Urban League Board of Trustees. She is president of national operations for Verizon Communications.
Bob Ernst, '79
Edmonds, was named the Pac-10 men's crew Coach of the Year after directing the Huskies to the Pac-10 varsity eight title for the first time since 1997. Washington also finished second at the Intercollegiate Rowing Assoc.'s varsity eight competition behind undefeated Harvard. This is the ninth Pac-10 coaching honor for Ernst, who has completed 29 years on the rowing staff at Washington, including 16 as head coach.
Michael Keough, '79, '92
Salt Lake City, is CEO of ClearOne Communications, a company offering audio, video and Web conferencing technology. He and his wife, Lynn, have lived in Utah with their three sons for 10 years and enjoy the great outdoors.
Joanne Schneider, '80
Tucson, Ariz., moved to Arizona and hopes to be working soon in the Univ. of Arizona's critical care/emergency departments.
Tom Turnure, '80
Seattle, is working with the UW through his company, Turnure & Associates, to install CampusLink in the HUB. CampusLink is designed to allow students to access information to help with their financial planning.
Gregory K. Parish, '83
Seattle, works for Action Sports Media, the collegiate sports marketing company that has broadcast rights and stadium signage opportunities for the Huskies. He and his wife of 16 years, Michelle, have three daughters: Nicole, Bailey and Piper. They enjoy playing soccer and camping.
Katharine Lawrence, '84
Portland Ore., was managing editor of the book Treating Autism: Parent Stories of Hope and Success, published in May by the Autism Research Inst. She and her husband, Charlie Weiss, have a 6-year-old daughter, Julia.
Ken Zafren, '84
Anchorage, Alaska, received the 2003 Education Award from the Wilderness Medical Society in recognition of his contributions in education in the field of wilderness medicine. A staff emergency physician at the Alaska Native Med. Ctr., he is chairman of the medical committee of the Mountain Rescue Assoc., associate medical director of the Himalayan Rescue Assoc., and VP of the Intl. Commission for Mountain Emergency Medicine.
Kyle L. Johnson, '85
Birmingham, Ala., received her Ph.D. in biophysics and genetics from the Univ. of Colorado in 1994 and is currently on the faculty of the Univ. of Alabama-Birmingham's microbiology department. This year she was awarded research grants from the National Institutes of Health and the Cystic Fibrosis Foundation to continue her work in the fields of virology and gene therapy.
Christine Sumption, '85
Seattle, is the associate artistic director of dramaturgy and publications at Seattle Repertory Theatre. She is the dramaturg for the 2003 Woman Playwrights Festival and The True Confessions of Charlotte Doyle. She also will direct All the Rage at the UW School of Drama in the upcoming year.
Karen P. Thomas, '85
Seattle, is the artistic director and conductor of the Seattle Pro Musica. She received the 2003 Margaret Hillis Award for choral excellence. She recently performed compositions in Rome, Germany, Denmark and throughout the U.S. She received the Distinguished Alumna Award from Cornish College of the Arts in 2001.
Laura Thorne, '85
Seattle, is a painter and printmaker.
Colleen Gants, '86
Seattle, is a senior associate in the public affairs department at PRR, a Seattle-based public relations firm with expertise in social issues marketing and communications.
Deborah Lynn Blumel, '87
Lake Stevens, earned her master's degree at Western Washington Univ. and teaches literature at Granite Falls High School, where she heads the drama department. She is also active in the community and professional theater including Seattle Repertory, BTIC (Bringing Theatre into the Classroom), and Seattle Shakespeare's Camp Bill.
Peter Lewis, '87
Brooklyn, N.Y., has been acting on the East Coast the past three years. This past summer, he performed in Buddy Jolly at the Downtown Cabaret Theatre in Bridgeport, Conn. He also heads a comedy folk band called For Pete's Sake. He would love to hear from anyone who might have known him from his days at UW. Mail sent to the UW Alumni Association can be forwarded to him.
Dia Dissmore, '88
Seattle, and her husband, John Glynn, announce the birth of their first child, Brady Stockton Glynn, on Sept. 10. Dia is a regional training manager for the consumer segment at Bank of America.
Wendy Ershig Guy, '88
Seattle, and her husband, Dan, welcomed daughter Mackenzie Ruth Guy into the Husky family on Jan. 6.
Diana Denney-Rasmussen, '89
Webster Groves, Mo., has been promoted to partner in charge of the Information Technology Group at Rubin, Brown, Gornstein & Co., a consulting firm, where she has been employed since 1996.
Catherine Ryan, '89
San Antonio, survived five Alaskan winters before moving to San Antonio. She now serves at Brooke Army Med. Ctr. On Sept. 1, she was promoted to lieutenant colonel.
You must be a member of the UW Alumni Association to be listed in the Alumnotes section. To join, call (206) 543-0540 or 1-800-AUW-ALUM, or visit UWalum.com on the Web.
Rick B. Newman, '90
Smyrna, Ga., was promoted to business unit executive at IBM in Atlanta.
Eric Nordin, '90
Everett, married Melisa Motor in October 2002. They honeymooned in Hawaii.
Calvin T. Miller, '91
Kelso, is founder, VP and co-owner of Pacific Tech Construction, Inc. The company, founded in 1995, specializes in federal institutional projects and currently has contracts in Arizona, Alabama, Florida, Hawaii, North Carolina, Washington, Oregon, California and Idaho.
Robert Bruce Mumford, '92
Kenmore, is a regional VP of sales for Acton, Mass.-based Tatara Systems, a private company that develops service platforms for public wireless LAN service providers. He got married on March 15, and honeymooned in Tanzania and Kenya on an East African safari.
Julienne Audette, '94
Langley, lives on three acres on Whidbey Island. She keeps busy during the day with her husband and 4-year-old daughter, while painting and free-lance writing fill her evenings. She is currently working on her first novel and her artwork can be found hanging in local businesses.
Kris Crumpton Franey, '94
San Diego, graduated from the California School of Professional Psychology at Alliant International Univ. in San Diego with a doctorate in clinical psychology, specializing in child and family work. She works for Forensic Psych Consultants in San Diego. She is married to Casey Franey.
Lori Meyers, '95
Bellevue, was promoted to senior account manager at Richland Public Relations.
Mark Palek, '96
Spokane, is president of Spokane Falls Community College.
Ted Stark, '96
Portland, Ore., and his wife, Karina, '96, welcomed a baby girl into their family on July 7.
Geoffrey M. Goebel, '97
Pullman, was accepted into veterinary school at WSU. His wife, Luzville Goebel, will move to Pullman to join him in order to support his profession.
Elizabeth Hutchinson, '97
Seattle, is one of three scholars selected to receive a Piscano Leadership Foundation scholarship for 2003. She is a fourth-year medical student at the UW School of Medicine. The scholarship is awarded to an outstanding medical student who intends to enter the specialty of family practice.
Charles Krusekopf, '97, '99
Sherman, Texas, has been named a Fulbright Scholar for spring 2004. An assistant professor of economics at Austin College, he plans to lecture on global political economy and East Asian economic development at the School of Foreign Service at the Mongolian Natl. Univ. in Ulaanbaatar, Mongolia.
Allen Sandico, '98
Seattle, is currently pursuing an M.P.A. at Seattle University's Inst. of Public Service. He also chairs his own non-profit foundation called the Philanthropy One Project (POP). POP benefits local and national programs supporting amateur sports, higher education, historical heritage preservation, homeless and hunger relief, and public education.
Kristin Nicole Cooley, '99
Sherman Oaks, Calif., and her husband, Jason, welcomed daughter Noelle Diane on Aug. 28. She weighed in at 9 lbs., 3 oz., and was 20 inches long. "Mom, Dad and baby are doing great," Kristin writes.
Lindsey Carver, '00
Bentonville, Ark., is international strategic marketing manager for Wal-Mart, where she focuses on global growth initiatives. She is involved with Rotary Intl. and the Bilingual United States Society.
Jennifer Le Deeds, '00
Renton, married Matthew Deeds on June 22.
Kristin C. Tarabochia, '00
Seattle, graduated from Concordia Univ. in 2002 with a master's degree in teaching. She just completed her first year of teaching at Hope Lutheran School in West Seattle.
Jennifer Fenich Burger, '01
Spokane, welcomed daughter Alexandra Noelle on Dec. 28. She arrived at 12:28 a.m., weighing in at 6 lbs., 5 oz., and measuring 19 inches long.
Mary Jean McDermott, '01
Seattle, worked with meteorologist Steve Pool, '77, at KOMO-TV as a result of internships and job placement help from the UW Dept. of Atmospheric Sciences. She became an on-air weather forecaster at Northwest Cable News and then moved to weekend weather forecaster at KCPQ-13 in Seattle. She is also the mother of twin 10-year-old boys.
Jackie S. Shuey, '02
Tacoma, is currently working as a primary health care provider in a rural clinic in Lewis County. She will be traveling to Nicaragua this month on a medical mission to provide basic health care in remote jungle clinics with her partner of six years, Sheila. She is considering returning to school to pursue a master's degree in public health administration.
You must be a member of the UW Alumni Association to be listed in the Alumnotes section. To join, call (206) 543-0540 or 1-800-AUW-ALUM, or visit UWalum.com on the Web.
---
Submit a Class Note
Tell us what major events have happened in your life: a new job, marriage, children, retirement, advanced degrees, you name it.

Submit an Obituary
Please let us know if a UW alumnus has died. Be sure to include date of death, place of death and age along with the UW class year (if known).

Update Your Records
Moving soon or know someone else who has? Let us know so that we can keep Columns coming to you.

Contact Information
Columns Magazine
1415 N.E. 45th Street
Seattle, WA 98105
Phone: (206) 543-0540
Fax: (206) 685-0611.
E-Mail: columns@u.washington.edu