Co-founder of the world's largest software company, owner of the Seattle Seahawks and Portland Trail Blazers, the inspiration behind the Experience Music Project and a $100-million effort to understand brain genetics, Paul Allen looms over Seattle and the nation as one of America's legendary entrepreneurs, computer visionaries and philanthropists. While UW alumni may know of his many contributions to the University, including the gift that helped build the new Paul G. Allen Center for Computer Science and Engineering, they are less aware of UW connections going back to Allen's childhood. To celebrate the opening of the Allen Center, Columns Editor Tom Griffin interviewed Allen on his many UW ties. What follows are excerpts from their exchange: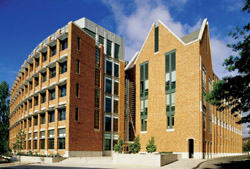 ---

The new Paul G. Allen Center for Computer Science and Engineering opened in late September. Photo by Lara Swimmer.

---
While many of our alumni know of your generous contributions to the University, most don't know of the UW connections going back to your childhood. Your father Ken Allen began his career with the University libraries in 1951, two years before you were born, and was associate director of the libraries from 1960-1982. Did your Dad open the resources of the UW libraries to you when you were a child?
A. I spent many weekends in Suzzallo Library as I was growing up. I remember spending hours just combing through the stacks of musty books, including early books about computers. Books about science and aviation in particular were some of my favorites.
Did your family have season tickets to Husky games?
A. Yes, my father had season tickets for the Huskies for my whole childhood and I remember going to many Husky games with him. One of the reasons that I really wanted to have an open-air stadium for Seahawks Stadium is that I have fond memories of wandering around Husky Stadium with my Dad, eating hot dogs and being able to watch the Huskies play outdoors in the elements—I think it's one of the best parts about football!
Do you recall attending any open houses or science fairs at the UW that might have sparked your interest in computers?
I went to science fairs many times and had a lot of fun. More than anything it enhanced my love of science— and I carry that excitement with me today. I am particularly interested in how the brain works, and what we might be able to learn by looking at the role of the human genome in the function and anatomy of the brain.
Go To: Page 1 | Page 2 | Page 3 | Page 4