Letters to the Editor
December 2002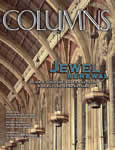 ---

Cover of September 2002 Columns

---
False Economy
Does UW really desperately need increased state support, as argued in Paying the Price (Sept. 2002), when we are able to hire outstanding professors such as Larry Dalton, whose work is highlighted in "Light Speed"? Ironically, the story of Dalton's hire vividly illustrates UW's financial predicament.

In 1997, the faculty of chemistry learned that superstar Larry Dalton wished to relocate to Seattle. His record of transformational impact in teaching and research promised the state of Washington rich dividends if UW could attract him. With the support of several other UW science and engineering departments, chemistry vigorously sought from our administration a state-funded salary to recruit Dalton. I will never forget the Saturday morning I telephoned Dalton at his USC office to describe our "offer" of less than half the salary he was then earning. UW had mustered the equivalent of the salary for an entry-level job requiring a B.S. degree in science or engineering for this luminary Ph.D. with 25 years of experience as a teacher and researcher.

In 1997, the faculty of chemistry learned that superstar Larry Dalton wished to relocate to Seattle. His record of transformational impact in teaching and research promised the state of Washington rich dividends if UW could attract him. With the support of several other UW science and engineering departments, chemistry vigorously sought from our administration a state-funded salary to recruit Dalton. I will never forget the Saturday morning I telephoned Dalton at his USC office to describe our "offer" of less than half the salary he was then earning. UW had mustered the equivalent of the salary for an entry-level job requiring a B.S. degree in science or engineering for this luminary Ph.D. with 25 years of experience as a teacher and researcher.

Professor Dalton was able to move to UW because he has been extraordinarily successful at winning federal and industrial grants and contracts that can pay him a more appropriate salary. Were he a similarly accomplished artist, historian, mathematician, philosopher or even a scientist or engineer in a less lucrative field, he could not have accepted our meager offer.

The people of Washington are reaping enormous benefits by having Larry Dalton in our region. He has already brought some $20 million to our economy, dollars which will support many new jobs. And in Dalton's classroom at the UW, students do not learn from the yellowed pages of a textbook. Rather, their instructor is an inspirational pioneer whose lectures form the content of textbooks of the future.

But this success story is the rare exception today at UW, not the rule. State-provided salaries that are a fraction of the going rate nationally cannot be expected to attract outstanding faculty, staff and teaching assistants to UW. How many Larry Daltons will UW fail to hire before our taxpayers learn that it is a false economy to starve our premier university?

Paul B. Hopkins
Professor and Chair
UW Dept. of Chemistry

Not UW But UGGC?
While various stadiums across the country and here in Seattle are attempting to sell naming rights, it would seem appropriate that the "U-Dub" should reflect its funding sources. With the dwindling amount of state dollars-16 percent-maybe the regents should consider renaming the University of Washington, as the "University of Gifts, Grants and Contracts" (32 percent)!
Cheryl Marks, '82
Seattle
Taking the Initiative
The story on UW finances "Paying the Price," Sept. 2002 was educational and points up the need for citizens of the State of Washington (and elsewhere in the U.S.) to look carefully into the role of higher education and how to finance legitimate expectations. A broad-based citizens committee, representative of the state as a whole, should be formed to do this and develop a well-thought-through initiative to bring before Washington voters. The initiative process has been used to correct problems before and should now be used to resolve role of the state in higher education. If we can spend the enormous sums that are being spent to restore schools of fish, we can spend at least an equal amount on university students. I'll bet that even Keiko would approve of that.
Max Bader, '61
Seattle
Rewards and Medicine Shows
Some thoughts on several items in the Sept. 2002 Columns: "Former head of neurosurgery department resigns after guilty plea in Medicare billing probe." The medical school dean says, "We are deeply concerned that one of our physicians has pleaded guilty to such serious allegations." How much concern is there and what type of concern is it when the felon gets a multi-million dollar "separation agreement" from the UW as his reward?
"New UW basketball coach gets $700,000 salary." Is there really that much socially redeeming value in being a basketball coach to justify that sort of remuneration from a university that is largely publicly funded? If this is to be the expected norm, is it any wonder that alumni and the Legislature get balky when asked to send more money?
Finally a comment to the doctors advertising in Columns, hawking expertise in such things as orthopedic surgery, cancer care, botox injections and total body scans. You don't need to act like frontier promoters in a medicine show selling some secret elixir. If you are any good at what you do, the world will seek you out without any tacky self-promotion on your part.
J.K. Boyce, M.D. '65
Great Falls, Mont.
Double Standards
I am absolutely amazed! Former UW Neurosurgery Chair Richard Winn pleads guilty and resigns. The UW then rewards him with at least $970,000 and up to $3.7 million in a separation agreement! At the bottom of the article on page 12 of the September Columns Medical School Dean Paul Ramsey is quoted: "We are deeply concerned that one of our physicians has pleaded guilty to such serious allegations. … The University of Washington Academic Medical Center will not tolerate the actions to which Dr. Winn has pleaded guilty." What is this world coming to? Plead guilty and be rewarded? It seems that the University of Washington has double standards that would even make ex-(Thank God)President Clinton blush.
How disappointed I am with the powers that be at the University of Washington.
The reason for these conditions lie in the changing structure of the U.S. economy. The process of "out-sourcing" to the lowest bidder, and the fact that many businesses and industries place no value on intellectual property and on locally controlled manufacturing, are the main culprits, and they bode ill to the future of the U.S. economy.
Bob Langenbach,'65, '70
SeaTac
Destroying Those Who Keep Us Afloat
I have read with interest the responses the magazine has received to the article "Reversal of Fortunes" Letters to the Editor, Sept. 2002. Each one of the respondents identified some issues that exist today, but none addressed the broader problem we face.
It is true that many high school graduates are deficient in knowledge; it is true that there are students who elect to major in a non-marketable subject; it is also true that there are some who use drugs, or just use their time at the university for entertainment, partying, etc. But, there are thousands upon thousands of serious high school and university graduates, who are intelligent, interested and committed to valuable professions; engineering, mathematics, sciences, literature, history, and so on. Yet they face an uncertain future with dwindling opportunities and declining salaries. Entry-level salaries are now on the decline, and many among those "good" university products cannot find jobs.
The reason for these conditions lie in the changing structure of the U.S. economy. The process of "out-sourcing" to the lowest bidder, and the fact that many businesses and industries place no value on intellectual property and on locally controlled manufacturing, are the main culprits, and they bode ill to the future of the U.S. economy.
Jack Welsh, former CEO of General Electric, introduced a philosophy (he may not be the first, but he is the most prominent one) that can be summarized in a few words: Everything can be bought; intellectual property has no value, and the cheaper the better. It is legitimate to out-source research and development, manufacturing and services, as long as it is cheaper, regardless of the loss of control over ones future.
Regretfully, many corporations follow in his footsteps. GE has at present research centers in China and India. This huge corporation's spending on R&D, measured as percent of sales, is currently the lowest among the "Top 100 R&D Spenders" (2001 - 1.6 percent), and one of the lowest in R&D dollar expenditure per employee ($6,387). Other companies, like Boeing, admire this myopic approach and emulate it. Its investment in R&D declined from 3.9 percent of sales in 2000 to 3.3 percent in 2001, and since sales declined from 2000 to 2001, the dollar decline is much more significant. Jobs in R&D, engineering and manufacturing, are shipped to Russia, China, South Africa, etc.
The potential consequences are disastrous. Loss of well paying manufacturing, science and engineering jobs, and the elimination of many other jobs which support them, will destroy the largest group of consumers in the US, the group that keeps the economy afloat. With their destruction, who will all the businesses sell their products to? To impoverished Africa perhaps? We, the largest economy in the world, and by far the largest consumers, are the engine that drives the economies of many other countries. A decline in the number of our well paying middle class jobs, due to the incessant search by corporations for "cheaper" (not better), will erode purchasing power of the population, and will eventually destroy our economy, decrease our living standards significantly, and destroy the economies of many other countries.
Isaiah Bier, '77
Bellevue
College Degree is Not a Job Guarantee
It is with great amusement I read the letters to the editor in the latest Columns discussing "Reversal of Fortunes." Who ever promised that you would get a high salaried job because you obtain a college degree? A college degree is a union card. It allows you to work at the very least.
I graduated in 1978 from UW. I earned my degree in communications. The reason I wanted to get that degree is because I was divorced with two children and I needed a job that allowed me to continue as an active and involved mother and to help support my two sons. I interviewed a vice president of Cole and Webber, an advertising and PR firm known nationwide, and asked if I would be hired on the basis of my resume and experience without a college degree. He said, "There are so many people who apply and they are all qualified to some degree. There is no question that you could do the job but you would have to compete first on paper and not having a degree, while many others do, would disqualify you from the pool of prospects." So, I got my degree.
Subsequently, I worked effectively in a number of areas, but never made a high salary because I always opted for the more interesting, yet less lucrative job. I made enough to have an interesting life and successfully raised my two sons. I worked for two gubernatorial campaigns, Booth Gardner and Barbara Roberts, among other jobs. I worked in the Oregon Senate as a legislative aide for five years and now work with my partner in a small jewelry importing and wholesale business.
I didn't expect my degree to give me high paying job. ... The most useful class I took at the UW was communications theory, which at the time seemed rather esoteric, but it gave me a way to understand how to relate to people effectively. The UW degree did not give me a job nor did it give me a career-it gave me a way to solve problems. It helped me see ways to define the problems, set goals and develop methods to achieve those goals. It helped me cope with today's responsibilities as an active participant in government. It helped me understand how to appreciate what I see in other countries and cultures. I have more confidence in tackling big problems because I learned that I could. These are just a few of the things I gained from my time at the UW.
Minimum wage increases and jobs kept in the U.S. are not effective quick fixes to poor paying jobs. I agree with Mr. Stengel, that we must be responsive to the problems felt by many young families trying to earn a living wage, but I disagree on the solutions. As a society we are letting too many children fall behind without adequate health care, food and adult supervision due to all types conditions besides drug use and alcoholism. We need to improve our ability to work together to find realistic, practical political solutions if we want to avoid violence and chaos. Like it or not, the world has grown smaller and we cannot continue to use the world's resources for frivolous lifestyles to merely keep our economy moving. It is time to start preparing for a future.
A better future for the young people of our country should be a common goal. It is my hope that a college degree will mean that more people will develop better, practical and realistic political solutions and find nonviolent methods for change. We need to learn to apply our growing knowledge of the natural world to the reality of decreasing natural resources effectively in order to carry forward a society capable of great and proud traditions.
Laurel Whitehurst, '78
Vancouver WA
None Can Really Compare
Thank you for the "Jewel Renewal" article in the September Columns. It brought back very fond memories of working there in the summer of 1956 when I managed to go up onto the roof and go from one tower to the next with a spectacular view of Mount Rainier and Frosh Pond down Rainier Vista. I can't remember if this was permissible or just youthful exuberance and my love for high places. It also brought back very fond memories of bringing up reference books from the bowels of Suzzallo Library to the reference desks in the very unique study room. I have seen many campus structures and libraries since I graduated and none really compare with Suzzallo's beauty in its spectacular setting. Thank God that UW had a string of regents and presidents with foresight and the vision not only to build it but to reinforce it and maintain it as the jewel of UW.
Shun C. Ling, '59, '67, '76
Vienna, Va.
Down-to-Earth Greatness
This is in response to two articles in the September Columns: the one on Suzzallo Library, and the "From the President" column on [the late Public Affairs Dean] Marc Lindenberg. In response to T. William Booth's regret that the 260-foot bell tower planned for Suzzallo was never built, I would suggest that the aspirations to greatness to which he is referring are based on archaic and obsolete views of how to assess and judge the greatness or even success of human societies, nay, even of human civilization.
The towers built throughout history represent triumphs of technology, wealth, power, status and, dare I say it, ego. Note how the proposed Suzzallo bell tower was designed to "rise above the Smith Tower." If we as human beings continue to be motivated by those same values, we are essentially continuing to behave as neo-tribal societies engaged in primitive competitions for some sort of supremacy. Is that how we really want to judge ourselves as a "great" or even "successful" form of life on this planet?
Real greatness lies in the values and accomplishments of someone such as Marc Lindenberg. How did President McCormick describe him? Upbeat, inspirational, visionary, modest and straightforward. If we as a species … are going to survive and succeed together on this planet, the values of someone such as Marc Lindenberg are going to have to be our guideposts, not the values and goals that motivate people and institutions to build bigger and better towers.
Let Cal-Berkeley, Stanford and cities around the world have their towers. If the University of Washington can make a difference in the world in a manner inspired by Marc Lindenberg, it will earn its own form of "greatness," and I will be proud to call myself a graduate of the UW.
Jeffrey S. Inglis,'84
San Pablo, Calif.
My earliest recollection of the library was during the war years in the '40s Jewel Renewal, Sept. 2002. As nearby kids we would ride our bikes around it and bounce down the steps out in front, before being shooed off by "George," the (seemingly only) campus cop. Entering the UW in 1951, I began using the library as required by various classes, and began to explore the building, finding fascinating nooks and crannies. It proved to be valuable in finding a place to sneak off for a nap during Hell Week the following year.
The fraternity I pledged in 1951 was Chi Psi. One of our "seniors" was [star football player] Hugh McElhenny, who made All-American that year. After Hugh was named All-American, the Seattle Times decided to do a profile of him for the Sunday rotogravure. They had pictures of him taken all over the campus, including one in the main reading room of the library. The photographer borrowed some books from a nearby coed, and Hugh stuck a pencil behind his ear and the photograph was made. Although he was supposed to be pictured as just another student, Hugh was heard to say upon leaving the building, "This is a nice place. I've never been here before." That after three years at the UW.
My most memorable moment as a student came when I was in Grad School and actually went to the library on a Friday night. I had never done that as an undergraduate, and had only learned from a friend that it was open on Friday evenings. Perhaps if I had done that in my undergraduate days I would have done better scholastically.
Ned Adams, '55, '60
Charleston, S.C.

---

Suzallo Library, photo by Stewart Hopkins

---
Tearful Images
The photograph of Suzzallo by Stewart Hopkins is so beautiful that it brought tears. Oh my … the memories. Now, how does one obtain copies? My Christmas gift list will be at least partly completed, as will an empty space on our wall. I would never tire of looking at that image. … Thank you for the consistently great magazine.
Kristine Alskog Hochberg
Gig Harbor
Editor's Note: Contact Stewart Hopkins Photography at (206) 527-3064 or e-mail stewart@hopkinsphoto.com.
California vs. Chicago
Your article on the seismic upgrade of Suzzallo Library reminds me of an incident reported in the Seattle Times at the time of the 1948 quake. When the tremblor was felt in the library's reading room, a student rose and shouted "I'm from California, stand in a doorway!" A plaintive voice from the back cried "I'm from Chicago! Where do I stand?" I have no idea what's become of those students, but I'm heartened to know that the library is likely to remain standing for years to come.
Don Adams, '58,'65
Price, Utah
Ethnic Slur Missed Its Target
In the "Prelude" column in the Sept. issue, reference was made to the gaffe by Governor Rowland Hartley in which he inferred that Dr. Henry Suzzallo was an ethnic Italian. In fact, Suzzallo's parents (they were distant cousins) traced their origin to Herzegovina, where the original Slavic spelling of the family surname was "Zucalo." Both parents (as was Dr. Suzzallo until he abandoned the faith) were Roman Catholics of Croatian ethnicity. Archival material substantiates that Suzzallo readily acknowledged his Croatian roots.
Richard L. Major, '57
Seattle
The History Behind the Name
I read with interest about how the Suzzallo Library got its name [Prelude, Sept. 2002]. My particular point of interest is the part about the stand-off between then Governor Rowland Hartley and how he succeeded in removing two UW regents. Although I am not familiar with all of that history, I believe one of those trustees was my great-grandfather, John T. Heffernan.
John T. was an apprentice engineer in western New York State and Ohio, who worked his way west with the railroads after the Civil War. He was the chief engineer on the Portland-Port Townsend Railroad, which ran out of financing during one of the economic crisis of the 1890's. Upon moving to Seattle's waterfront in the late 1890's, John T. applied his knowledge and built many of the steam engines for vessels going to Alaska as well as for the "Mosquito Fleet' that plied Puget Sound. His engine still powers the Virginia V to this day, and that machine shop still stands today at the foot of Alaskan Way and Yesler.
After WWI John T. sold his business and went into real estate development. One such development was a building he constructed for William Randolf Hearst in 1920 (that bore John T.'s name), the old Post Intelligencer building at 6th Avenue and Pine Street. He developed many classic low-rise structures using terra cotta exteriors. Unfortunately, after the P.I. moved out to the Denny Regrade area during the 1950's, the management of the property constructed a "modern" facade where Klopfensteins was housed. Sadly, even though the old terra cotta remained behind this facade, the building was demolished to make way for the Pacific Place mall that opened a few years ago. However, another one of John T.'s buildings remains, located at Bellevue at E. Pine street, the "400 E. Pine Building."
Charlie Heffernan
Seattle
Editor's Note: John T. Heffernan served on the board of regents form 1924 to 1926 and removed by Gov. Hartley because he was an ally of UW President Henry Suzzallo.
Suzzallo Postscript
I enjoyed the article on the Suzzallo remodel. Like most alumni, I have fond memories of it. I also particularly liked Tom Griffin's Prelude - a nice bit of insight into the history of the Library.
As an interesting postscript, after Roland Hartley's death in 1932 Carl Gould designed the Everett Public Library. The Library building, opened in 1934, lies between Hartley's stately Everett house and his final rest in Everett's Evergreen Cemetery. It seems Gould got the last word.
More information can be found on the Everett Public Library web site http://www.epls.org
Eric J. Wilson, '90
Everett
Futile Scans
I was disappointed to see an ad for full body scanning in your last issue. To suggest that healthy people have this test is to do your readers a disservice. A full body scan exposes patients to hundreds of times more radiation than a routine chest X ray. That kind of risk should be taken only on the order of a doctor and for specific reasons, not as a screening test.
Apart from the radiation, a body scan picks up all sorts of minor abnormalities that would never have caused a problem. This can lead to unneeded surgery or at least to unnecessary worry. One center found something requiring a specialist referral in fully 80 percent of their patients.
As a screening test, the full body scan is not covered by insurance because it is not medically indicated. So it is likely to do considerable damage to your wallet as well.
Harriet A. Hall, M.D, '66,'70
Puyallup