It was the protests that captured Richard Johnson's attention during his first visit to America.
Now a University of Washington history professor, he was a shy 22-year-old scholar at the University of California, Berkeley, in 1964. Having recently graduated from Oxford University with a bachelor's in history and a strong interest in the medieval period, Johnson came to America on a one-year Rotary fellowship.
His first impressions involved tear gas and state police, free speech and protests, fierce riots and student strikes.
"That experience accentuated in my mind that Americans took the matter of America very seriously," Johnson says while sitting in front of the dark wooden bookshelves of his Smith Hall office. "These people were fighting in the name of their rights and principles as they saw them and trying to realize their visions of what they saw as the true republic."
Johnson wasn't doing a lot of protesting himself. Rather, he was trying to study and at the same time travel throughout the region to speak to groups of Rotarians, "most of whom had strong views about what should be done to the students at Berkeley. They were sort of the Tories of that particular revolution."
Amid all the chaos of those times, the Englishman's flirtation with America and American history began. In Johnson's mind there was a clear link between the images of those student protests and the American Revolution, which almost 200 years earlier set the stage for such uprisings.
When the fellowship came to a close, he returned to England, but not for long. After one year training for a career in the paper industry, he was back in America, determined to make a career of his longtime fascination with history. By the time he graduated in 1972 with a doctorate, medieval history was no longer his emphasis. The man who grew up in Tunbridge Wells and who earned a degree from Oxford University had become an American historian.
"I enjoyed reading 'American' more than Latin," he jokes about the switch. But closer to the truth, Johnson says he never could shake off an interest in American history that began to blossom during that first stint in Northern California. He couldn't help but see, in the form of the growing free-speech controversy at Berkeley, how the American Revolution continued to affect the modern world.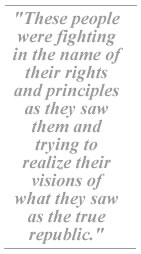 "As soon as I started studying American history, I felt that Americans were a people who took their history extremely seriously, who thought in terms of their rights as much or more than their responsibilities. They look back to a past that they conceive of as almost perfect in order to guide their actions in the present. So history in America seemed to have a particular importance."v

Johnson will share insights from colonial America during the UW Alumni Association's popular History Lecture Series beginning next month. The five-lecture series - Crafting Revolution, Envisioning America: Benjamin Franklin, John Adams, and Thomas Jefferson - promises to show how the American Revolution continues to shape our world, even in the 21st century. The series will focus on three great leaders representing different perspectives who came together to help craft the new nation.

It's material that Johnson could probably lecture on in his sleep, and that familiarity is comforting in this case, he says, given the prospect of taking over for Jon Bridgman, who had lectured in the series to rave reviews for more than 10 consecutive years. Before Bridgman, Giovanni Costigan enjoyed a similar rapport with lecture-goers until his death in 1990.

"It's a little intimidating perhaps," Johnson says of following Bridgman and Costigan. "I really think these are shoes that are impossible to fill."

But he plans to give it a try using a combination of storytelling skill, a dry wit that makes him a favorite among colleagues, and, of course, that English accent that remains a source of curiosity among his students.

Go To: Page 1 | Page 2 | Page 3