Briefings
As Time Goes By: The McCormick Years in Review
Sept. 1, 1995: Richard L. McCormick becomes 28th UW president.
Sept. 15, 1995: The UW receives a record $477 million in research grants and contracts for 1994-95. Private giving sets an all-time record of $128 million.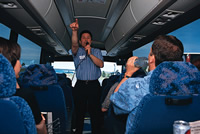 ---

McCormick answers a question during the Faculty Field tour. Photo by Mary levin
---
Oct. 2, 1995: Fall Quarter starts with 33,996 students in Seattle. In-state, undergraduate tuition is $3,019 per year.
January 1996: McCormick creates University Initiatives Fund, where 1 percent of each department's budget is reallocated to fund innovative new projects.
March 5, 1997: Katuria Smith "reverse discrimination" suit is filed against the law school admissions process. In 2002, it loses in district court but is appealed.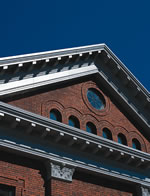 ---

Roofline of the UW Tacoma library. Photo by Mary levin
---
Sept. 29, 1997: UW Tacoma's permanent campus opens. March 1998: Tools for Transformation is launched to strengthen academic units.
June 15, 1998: McCormick joins 35 new faculty from three campuses on Faculty Field Tour, launching an annual event.
Nov. 4, 1998: State voters approve Initiative 200. The UW can no longer use race or ethnicity in admissions decisions.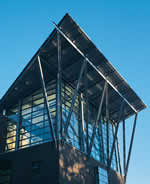 ---

Roofline of the UW Bothell/Cascadia Community College Library. Photo by Mary levin
---
Dec. 30, 1998: Football Coach Jim Lambright is fired after a 6-6 season. Two weeks later, Rick Neuheisel, head coach at Colorado, is hired.
Sept. 25, 2000: UW Bothell's permanent campus opens.
October 2000: McCormick signs Diversity Compact to improve UW diversity.
Jan. 1, 2001: Huskies finish an 11-1 season with a victory over Purdue in the Rose Bowl.
May 21, 2001: Center for Urban Horticulture's Merrill Hall is damaged in an arson attack by an eco-terrorist group.
June 1, 2001: First TA strike in UW history hits on the last day of classes.
Oct. 1, 2001: Largest freshman class ever-5,382-starts classes.
Oct. 8, 2001: UW Professor Lee Hartwell is awarded a Nobel Prize in medicine.
May 17, 2002: UW regents impose a 2.5 percent cut over all departments after the state lowers UW budget by $24 million.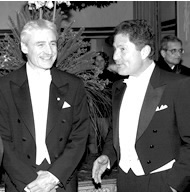 ---

President McCormick congratulates UW Genome Sciences Professor Lee Hartwell, left, at a banquet for winners of the Nobel Prize in Stockholm, Sweden. Photo by Ecke Kuller.
---
June 30, 2002: UW ends record year in research funding with more than $800 million in grants and contracts. Private giving also hits a record of $239 million.
Sept. 30, 2002: UW breaks enrollment record with 39,216. In-state undergraduate tuition is $4,167 per year.
Oct. 25, 2002: Richard L. McCormick announces he will resign to become president of Rutgers University.